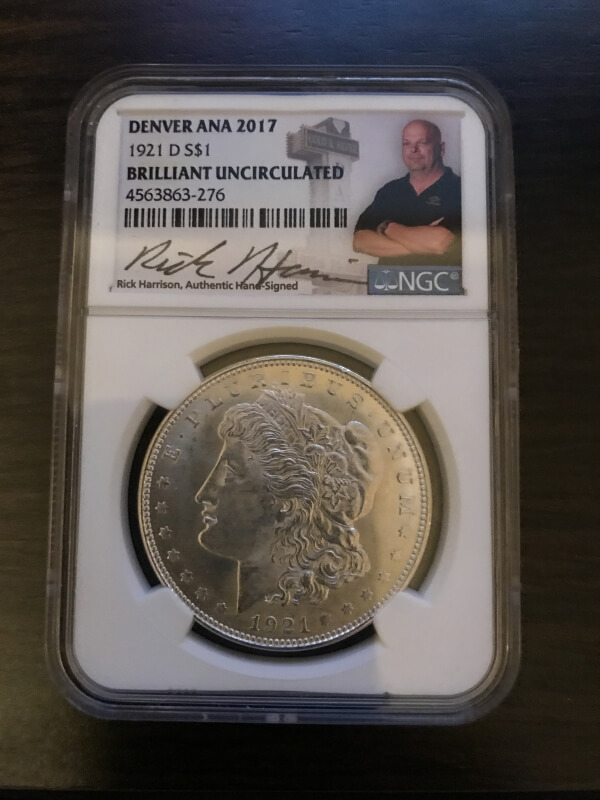 Day 4 of World's Fair of Money Vacation
Thursday was my first day at the World's Fair of Money and what an exciting day it was. During the morning I browsed the first few rows of the show and picked up two Rick Harrison hand signed labeled slabs. One was a 1921-D Brilliant Uncirculated Morgan Silver Dollar and the other was a Rick Harrison Silver Medal. After that Rick Harrison showed up in person and took photos with show attendees and signed autographs. I then was off to a Money Talk session about CAC & Their "Green Beans" on PCGS and NGC Coin Holders which was very informative and well presented. After the Money Talk I returned to the Bourse floor and meet up with Andrea from the Coin Couch and gave her a 1921-D MS-63 Morgan Silver Dollar as a gift and gave her some back ground on what made it special. We later filmed an episode of the Coin Couch about the gift.
Here is a link to the YouTube video https://youtu.be/26BAZxL6WeI
Lastly I picked up an 1893-S VG8 Morgan Silver Dollar it really set me back a bit but was a very good price for the grade.