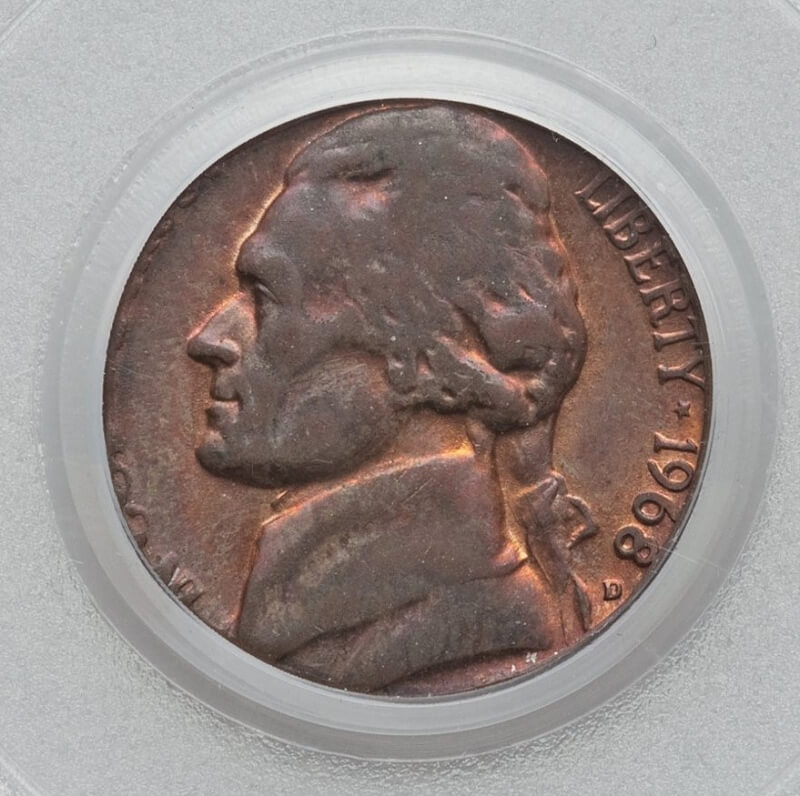 FREAK SHOW 1968 – XIII
| Haney
Well after starting off the work week with a triple digit day today is decidedly different. 
The windows are open and there is a nice breeze wafting in without any of the humidity we have had in days past hinting that fall maybe truly around the corner.  Granted I have been in the spirit for a while thanks to Spirited banners appearing on tired strip malls and tagging along with my wife into that Biblically ran hobby shop where orange and brown is now being replaced with evergreen and red way to fast as Halloween has not past.  So while sipping my coffee, no it is not a PSL, I looked at my cast of ghoulish delights and landed upon one that embraces the feel of a fall like day.
As for a type it is not spectacular nor is it misshapen and grotesque, but the warm hues simple stated as RB just says I am fall gaze upon me.  Many of the Jefferson's like the one that started this year's series are bright, but this one almost seems more worn than poorly struck.  The surfaces both the field and raised have shades browns with hints of green, offset by fiery copper red highlights that do not distract but enhances its beauty.  Yes, okay I said it, it is a beautiful member of my menagerie maybe it is the fall talking though I admit I like it and had to have him for my group at first sight.  Though this is hardly fair as I have only been describing the obverse.  The reverse is equally satisfying with Monticello highlighted in a warm glow of amber.  The building itself almost seems silhouetted as there is little architectural detail to be seen, due to the lack of metal available for the strike, as if being backlit by a setting sun or rising moon.  So I hope you can understand why I felt the need to present this cast member today.
Getting to the generic information on this wonderful piece it is encapsulated by PCGS and arrived to me with several others during a rather successful all Error Auction put on by Heritage.  It is described as 1968-D Mint Error 5C, PCGS MS62RB, Stuck on Cent Planchet, which in and of itself is nothing too exciting.  Beyond the color I tend to see many more 1968-S Jefferson nickels on cent planchets than Denver issues which may allude to a rarity.  Though if you judged its rarity based upon price it actually sold for less than similar San Francisco issues.  Who knows maybe the RB was a turn off for some proving the old axiom that beauty is in the eye of the beholder.  It could also be a simple case of us old time collectors equating the 'S' mint mark to rarity.  Either way I am glad to be the new owner.
Before closing I like to offer a small quiz as to which category this FREAK fits into using the PDS system?
Until next week stay safe and I hope some fall blows your way...............