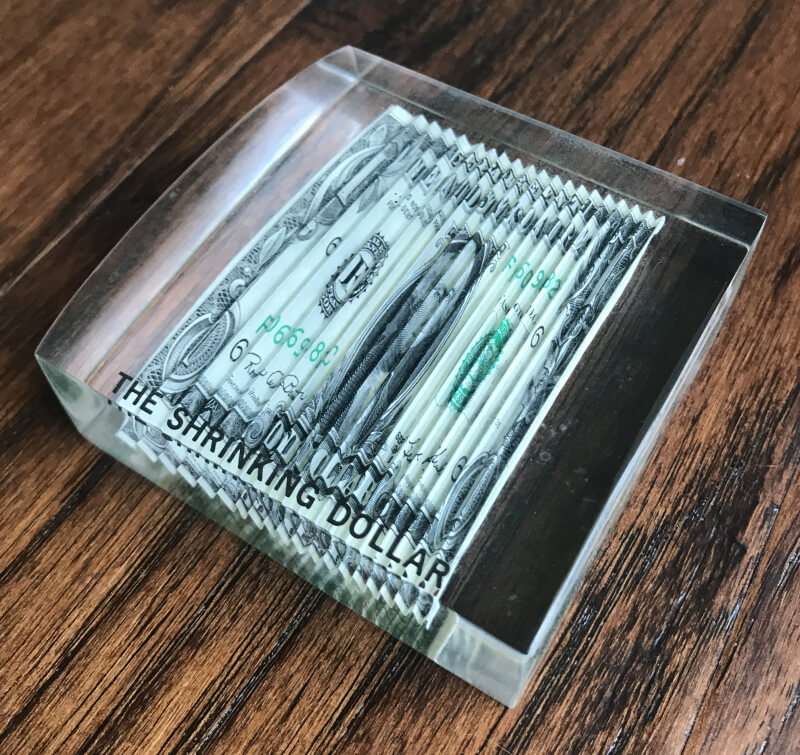 Long before there were slabs to protect coins from oily fingers, perspiration, humidity, or any number of other ways those brilliant surfaces could lose their luster there was Lucite.  Not just the old Capitol Plastic holders but paper weights that could hold your birth year set or for that matter any numismatic souvenir suspended both in space and in time encased in Lucite.  Unlike a favorite slab coin these items actually have an artist quality allowing them to left out and about in the home or apartment to be enjoy by collector and non-collector alike.
Now before I get started showing a few of these curios I have acquired I would like to take you back to the first time I encountered coins encased in Lucite.  No it was not at a coin shop, second hand store, or antique store it was at the good old Kmart.  The item unlike my other curios would not be one my wife would allow me to casually display in the living room on a shelf.  This Lucite item was found in the hardware section of Kmart, specifically toilet seats.  Yes coins in a Lucite toilet seat and ring hanging with others equally gaudy seats featuring  sea shells, sand, and mermaids.  Though I have to admit the latter items at least were more colorful.  Should you want to see one of these 70's throwbacks for yourself just search Lucite Coin Toilet Seats on EBay and more than likely you will find one or more listed.  Perfect addition to the man cave with attached powder, not half bath as the addition of a Lucite coin seat would add a touch of class right?  Well enough of the potty talk.
To be honest the first Lucite paper weight I acquired actually does not have a coin at all.  It was actually received from a manufacture that created a fiber that could be mixed into concrete to prevent cracking called Fibermesh.  Imbedding the fibers in a Lucite block was a very effective way of presenting their material rather than giving you a block of concrete with their product in it.  You can see how the fibers are distributed through the material, but on the down side you could also feel the prickles on the outside.  Leading those of us after the manufactures presentation to wonder if the slabs with this mesh would feel hairy.  Anyway back to numismatic items encased in Lucite.
My first numismatic curio incased in Lucite was not a coin either, but a note that I won at the local club auction. The note, folded accordion style, is a one dollar Federal Reserve Note issued from FRB of Atlanta Georgia series 1969 D.  Yes had to get my magnifying glass to confirm that last piece!  Along with the note in bold typeface are the words "THE SHIRINKING DOLLAR", which I suspect is the reason for the note being folded before encasing in Lucite.  The paper weight is roughly three inches square and three quarters of an inch thick with a slight arch with the apex being one and one quarter inches thick giving Washington a rather elongated face when looking at it face on.  In holding it to write this piece I am reminded of the old saying the more things change the more they stay the same, and it is quite obvious the piece was created bring attention to the shrinking buying power of the dollar which is no less a concern today.  So truly a piece of history.
Anyway I hope you enjoyed this as I have a few other pieces encased in Lucite I think worthy of sharing, until then.
Cheers!