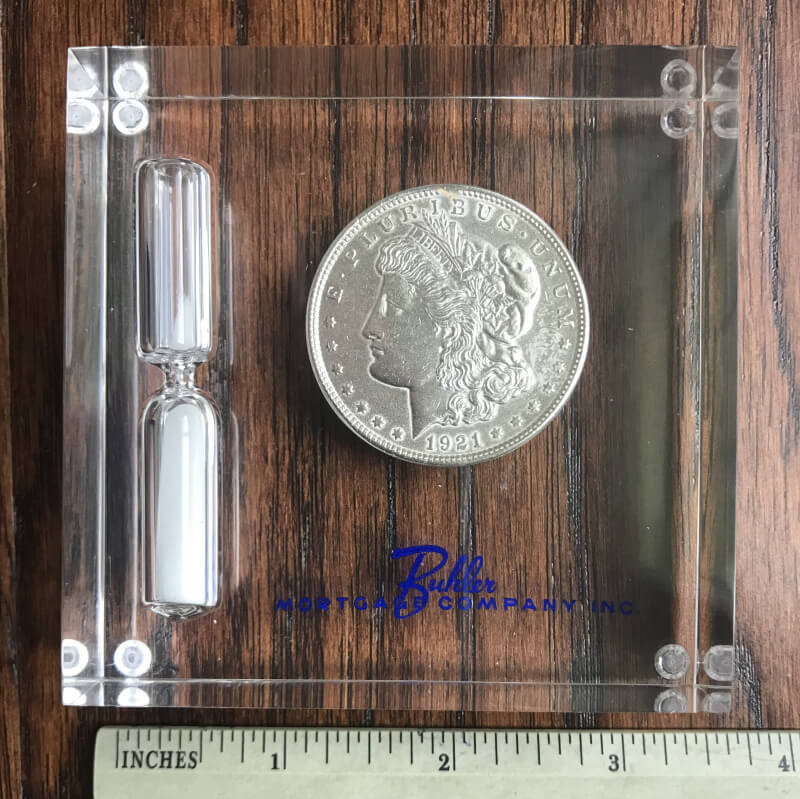 This week I have another numismatic item trapped in Lucite that I also picked up at the local coin club auction.  This too is one dollar, but unlike the former piece it is a one dollar coin.  More specifically a product of the Philadelphia mint from 1921 designed by George T. Morgan who included his initial 'M' on both the obverse and reverse of the coin.  In addition to the coin there is also two minute timer and the name of the company that I assumed commissioned the piece, Buhler Mortgage Company Inc.  The piece, three and three quarter inches square by seven eighths of an inch high, came in its original plastic sleeve and light blue cardboard box.  Neither included an information on the maker of this paper weight or the reason for its creation.  The same night of the auction there was another offered with a 1922 Peace dollar, so it would appear that there was no special significance given to the type of dollar to be used.  Like the one I secured it came in a similar box and also included the two minute timer encapsulated with the dollar coin, well I assume two minutes as I do no own that one so have not timed it.
So what was the reason for including a timer on a paper weight for a mortgage company?  Was it the amount of time they would spend considering your loan application?  Was it the amount of time it would take for them to secure your money?  Then again was it just to get the perfect egg?  We may never know, but with a little surfing on the internet I was able to find out a little about the company.  Based upon the records found California's Secretary of State website the company was founded in July of 1952 and would be conducting business in Sacramento County, so it kind of make sense I would see two during the Sacramento Valley Coin Club meeting.  The three signers all had the sir name Buhler, but at the dissolution notice filed in December of 1975 neither the president nor vice president was a Buhler.  Further the notice was filed in Kings County Washington, so no longer held in California.
It does appear the company did have a little issue of taxes in 1969 as there is a tax court paper I found regarding past due taxes for 1964 and 1965 based upon a dispute in the definition of their company filing type.  It appears the Buhler Mortgage Company Inc. did try to appeal it but the original verdict was upheld in 1971.  Who knows if that led to the company being dissolved four years later or if there were other factors as the trail on the internet went cold.
Either way I am pleased to own their little paper weight curio, well until next week.
Happy collecting!