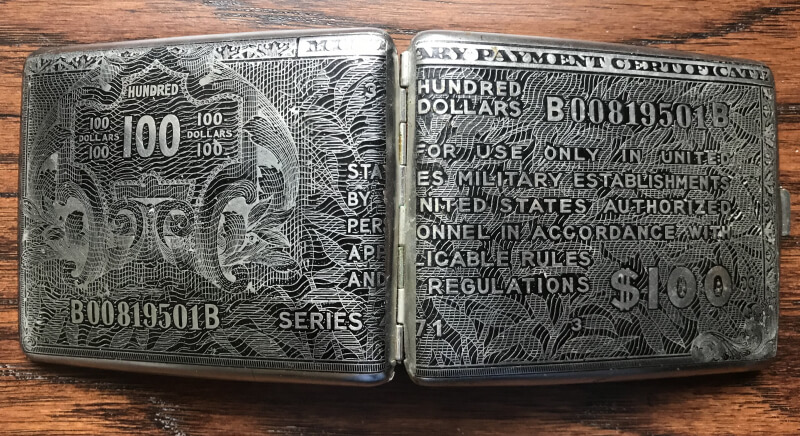 Series 471, Cigarette Case?
Numismatic collectables as you know can run the gambit of items from neck ties to glassware, but you want a puzzled look from your spouse just say you bought a cigarette case on eBay.  So you are going to take up smoking now?  Well no was my response, but it is really cool as it has a fictious series 471 note engraved on the outside of the case.  At that point I wondered, out loud, if it would work as a business card holder as it is eye catching which ended with the comment you're cute.  That is okay as I guess you need to be a little nuts to get excited about your latest MPC acquisition then again she may need to get her eyes checked saying I am cute.
Anyway as to my excitement I first saw this cigarette case while reading Fred Schwan's book Comprehensive Catalog of Military Payment Certificates on page 165 in which he listed it as possibly unique.  So I was quite surprised to see one being offered when I did the random search for series 471 on eBay as I have done in the past.  As this was a purchase only I decided at the time to just watch it in hopes of seeing an offer button added to the listing.  In a couple of days I noticed that there had been no change in the listing, but another watcher had shown up so I pushed the trigger.  Granted the watcher could be someone with a similar item, but as I have been left holding the proverbial bag before I was not taking chances as I wanted it.  I thought it would be a nice piece to have to round out a collection of 471 series notes even if the note engraved upon it never existed.
Yes it denomination adds another level of curiosity to what is an interesting curio.  The highest denomination of series 471 or for that matter any MPC is twenty dollars.  Whereas this vary elaborately decorated cigarette case depicts a one hundred dollar note.  Why choose such a high denomination of course is unknown much less why choose MPC.  I have to guess it was made for servicemen who would be familiar with the style of note depicted.  The seller listed it is possibly Korean War vintage, but assuming like Fred described it was made during the time series 471 was in use it would predate that war.  Unfortunately too there are no hallmarks I can find on the case using my coin loop to assist in determining the who and possibly when the artifact was created.  I did reach out to the seller to find out if they had any information on the former owner which surprisingly they responded promptly.   The answer was that it was part of a large collection of military items amassed by a gentleman in Connecticut who passed in 2015.
So I put this out there should anyone out there have more information on this item please share.  I like to think there are more and quite possibly it was an item you would find at the local PX back in the day.