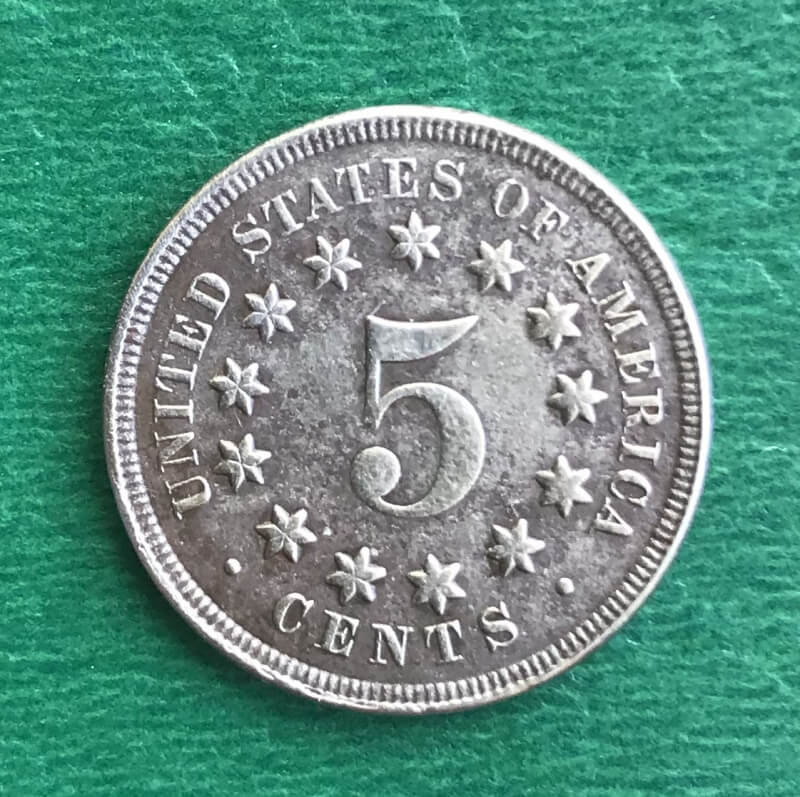 Many years ago there was a boy at home on a night well before Christmas.  His parents were away and curiosity had gotten the better of him.  There was a small box under the tree and he had no idea of what it could be.  It did not rattle and it seemed much too small for anything he thought he had wanted.  The box sparkled under the tree that night just begging to be opened as one flap, with not quite enough tape, lifted enough that if gently pulled back would reveal what was inside.  So I pulled oh so carefully allowing me to remove the box within without taking a breath.  It was far easier than I could have imagined, so still hearing no car on the drive I did it, taking a peek inside.  There to my surprise was an 1867 shield nickel that glistened under the lights of our Christmas tree.  I had actually never seen such a coin before well at least not in my hand.  I studied it for only a moment or two before carefully repacking my little treasure in its box then sliding it back in the wrapping making sure to press the flap firm this time.  My parents arrive not to long later, none the wiser I think for my first and last time I stole a Christmas peek.
Of course in the days before Christmas I studied my trusty copy of the 1982 edition of the Redbook, now was it a shield nickel with rays or was it not I could not say.  So I waited and waited for the 25th to come.  In the meantime I spotted another similar size box and I spent my time too wondering what coin it may have inside.  Well not soon enough the big day came and it was not an 1867 shield nickel with rays, but that was still okay.  So was the other box the nickel with rays?  Well no, it was a 1944 Walking Liberty half I had a hand in selecting that I assumed was for my mom earlier in the year.  See she, and my dad, were born in 1944.  So at her asking I selected the best looking of the one from the group she had been looking at.  So not as spectacular as the unexpected shield nickel, but still a prize for my collection just the same.
Now did my parents ever know I sneaked a peek, I do not think so though if they follow this blog they do now.  So did my peek spoil my Christmas, not really as in my effort to be sneaky and quick I had not committed all of the details of the coin to memory.  So for a few days I spent quite a bit of time and thought imagining what exactly laid within that box underneath the tree.
As for the coin itself, why yes I still have it, it is currently laying on the desk in front of me while composing my confession, I mean the story of a curious little boy stealing a peek.
Merry Christmas Y'all