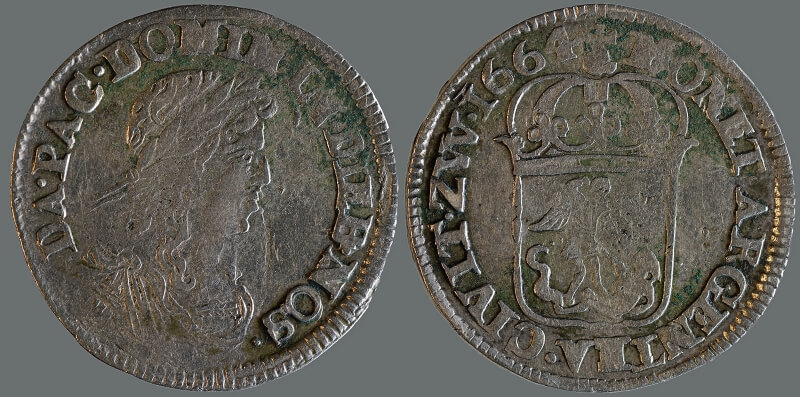 1664 Zwolle half shilling/5 Sols/Luigino
At least 3 years ago, probably closer to five I developed an interest in a,mostly, forgotten series of coins that are often referred to outside of the USA as Luigino. "Luigino" is an Italian diminutive for the French 5 sols piece. The coin in the mid 17th century became popular for trade with the Ottoman Levant, and was imitated by a number of different producers in Europe. The series is cataloged in a French/Italian language reference by Maurice Cammerano "Corpus Luiginorum". With this series of coins, like many others the successful variants are easy to find and cheaply purchased. The failures of course are rare and , in relative terms expensive. One very rare example ( and likely a failure) is from the Netherlands. Cammarano lists Zwolle mint in the Netherlands as producing a Luigino in 1662. A Dutch language reference D Purma "Handboek van de Nederlandse Provinciale Muntslag 1573 -1806, Deel II" lists two striking dates for the same coin (described as a halve Schelling) 1662 and 1664. I obtained an aF examp[le of the 1662 strike for around US$800.00 a few years back and have kept my eye out for a 1664 strike ever since.

In communications with other collectors I was told that Cammarano, didn't believe the 1664 existed. It was stated to me that his research had not identified any sales of a 1664 date. I likewise started researching auction records and also found no records of a sale of the 1664 coin. Discussing it with a fellow ANA member at a summer seminar a couple of years ago the suggestion was made, to me, that perhaps the 1664 strike was just a re-striking of the 1662. It was an attractive idea as it explained the absence of sale records for 1664 while not casting doubt on Purma's research. A few weeks ago all that changed. Heritage Auctions ( Europe) put their latest auction on line and in that auction was a rough example of the 1664 strike. Of course I had to bid and, unsure as to whether I would be able to bid live, I submitted an absentee bid online well in advance. It was clear before the Auction that there was only one other collector who was interested in the coin. Before the online bidding closed and the live auction began the other bidder and I took the coins pre-bids up to €1200.00. I was able to log on and participate, unnecessarily, in the live auction. I, with no further bidding, became the owner of the first confirmed 21st century sale of the 1664 strike. I say 21st century because Heritage auctions, as is now common in European coin sales listed the coins provenance. The coin had resided in a collection since it was last sold in April 1975 ( Schulman's Amsterdam). I am now hunting that 1975 Auction Catalog, I suspect I missed finding the coin in Auction records because I failed to search under the Dutch designation of "halve schelling". All up with postage and BP I paid US$1600.00 for a coin that for me had taken on a mythological status. With only two interested bidders the coin might not appreciate further in value and perhaps might depreciate over time... For me the important thing is I finally have proof the coin exists, and have the pleasure of it residing in my collection. The coin is about the same size as a nickel.

Edit(11/29/2016): An update. Cammarano states the Reverse of the coin bears St George and the Dragon. I had never questioned that attribution. I posted the find on a Closed face book group for the Royal Numismatic Society of New Zealand and a member of that group took one look at the reverse and asked if it were St Michael ( the archangel) I responded stating I thought it was St Gerorge but that person then posted pictures of medals and coins that bore St Michael and the visual evidence was hard( I would say impossible) to deny. I then scanned through Purma's book looking at Zwolle mint coins from the same period. A number of coins had St Michael, as attributed by Purma, in the Coat of Arms for , I assume, Zwolle on them. Of course now it seems obvious: St George is never portrayed with wings, so it is clear that the reverse bears the image of St Michael attacking Satan. If you look at the "dragon" you can see it has arms and legs as well as serpent features. I had been so focused on the story behind the coin that I had omitted to look at the story on the coin.