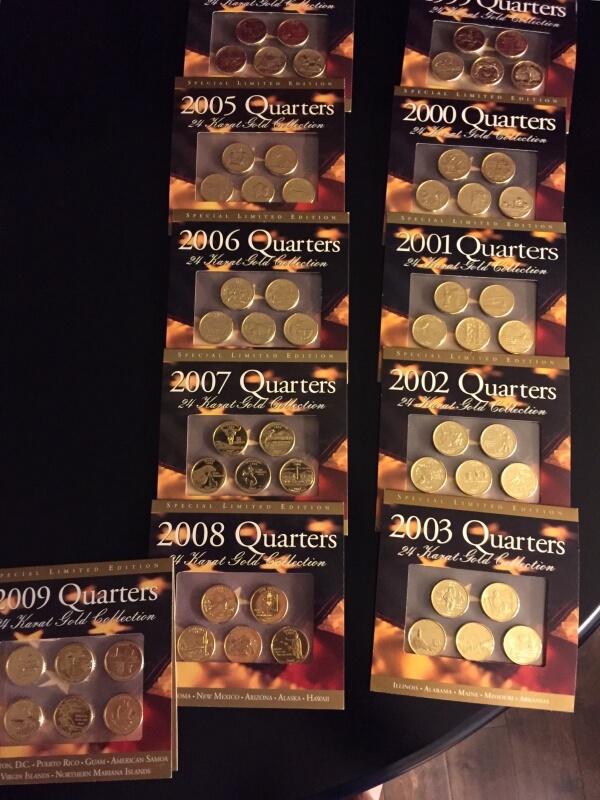 Companies attempt to sell "gold" quarters as great future coin investments, which they are not. Because the term "gold" generally coincides with "valuable" and "precious metal," people believe that they should be worth a significant amount and purchase gold plated coins with that thought. The problem with these, however, is that, while they are gold plated, the gold plating is incredibly thin, only thin enough to give the appearance of gold. There is nothing wrong with owning gold-plated coins, with the most common being quarters, as long as you did not spend the overpriced prices for the coins. These are real quarters, plated by a third-party service, not the official US Mint. Because of that reason, many collectors even go as far as to claim these coins are damaged.
As you are probably aware, altering, mutilating, or intentionally destroying US coinage is technically illegal. However, there is no law that says plating coins with gold or another precious metal is not legal – unless, of course, they claim the coins to be pure gold (or whatever metal the outside companies used). Because they call the coins gold-plated, there is nothing illegal about that.
In terms of the coins value, gold plated quarters are often worth no more than face value. They often come in quality packaging and cases, which would make a nice addition to some collections. A few dealers may pay as much as fifty cents for these coins, but most will simply pay twenty-five cents. I have a collection of gold-plated state quarters, which I paid face value for. Unlike some collectors, I am not against gold-plated quarters or coins of other denominations, but I do not feel people should pay a premium for normal quarters, given a super thin layer of gold plating by an outside company. Some would even claim these are scams. Anyone can make these coins as long as he or she has the right equipment.
Throughout the world of numismatics, there are always going to be scams, rip-offs, and over-hyped normal coinage. Some of them, like the counterfeiting of rare and valuable coins, as well as fake PCGS, NGC, and possibly even ANACS, and ICG slabs, are often geared towards serious and more professional collectors, who know their coins but decide to purchase coins online, regardless of poor quality or stock images. Most of the numismatic scams, however, are geared towards non-collectors and people who know very little about the world of numismatics. An example of this type of rip-off are the gold-plated quarters, where they are advertised as investments. Some other common types are colorized State or National Park Quarters. There are also many "package sales," where sellers will place normal coins inside a plastic or other appealing container and sell them for more. "Buy the coin, not the holder." These are commonly "Obsolete US Coin Sets," which may contain a worn Buffalo Nickel (maybe even one that lacks a date), an Indian Head Cent, a low-quality Mercury Dime, and maybe a Liberty Head "V" Nickel. These are often priced significantly higher than the actual value of the coins.