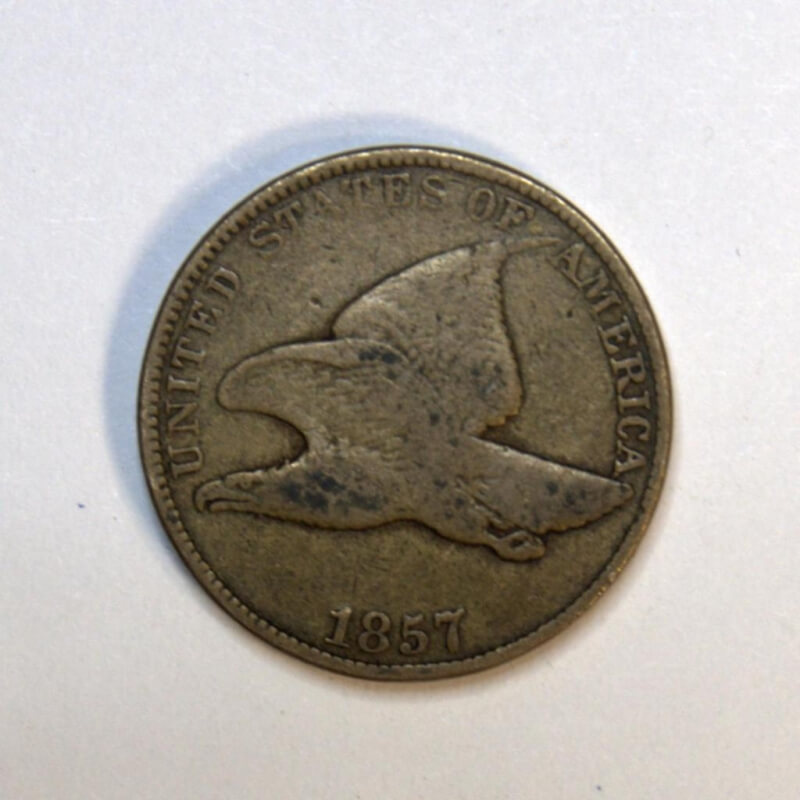 Learn Your Types: Flying Eagle Small Cent
The Flying Eagle Small Cent is a less-popular coin type with an extremely short run, but is actually one of my favorite coins ever minted. This was the first small cent, which replaced the large cents. Both half cents and large cents were very unpopular and it began costing a lot of money to mint copper coins, so the decision was made. The half cent would be discontinued and the one cent would be replaced with an option much smaller. The small cent quickly gained popularity. The Flying Cent officially began in 1856, but these were intended only as "concept coins" to show Congress what the new, small cent would look like. The 1856 Flying Eagle Small Cent is incredibly valuable and rare, with a mintage estimate of just 2,000.
Each and every coin is special in its own way, whether it's a Franklin Half Dollar or a Mercury Dime or even a brand-new Native American Dollar. Flying Eagle Small Cents are made of 88% copper and 12% nickel, whereas the previous large cents were made of 100% copper. The Flying Eagle Cent weighs 4.67 grams, much lighter than the 10.89 grams of the previous large cents, making it easier to carry larger amounts. The coin has a diameter of 19 millimeters.
No mint mark - Philadelphia
The Flying Eagle Small Cent was minted for only three years, all at the Philadelphia Mint. In regards to this, there is only one real key date in this series, the 1856, with a mintage of around 2,000. Even in good condition, this coin can easily fetch well over $6,000. The 1857 and 1858 are both similar in value, at around $50 for a fine example. The 1858 cent has two varieties, the small date and the large date, both which have a similar value and a similar mintage. If you are creating a full Flying Eagle Small Cent collection, however, you will want both the small and large letters examples. The large letters variety has much bolder looking letters on "United States of America" than the small letters.
There is only one real error in this short series, the 1858 overdate, which has the 8 struck over the 7. For an error coin, these actually go for a reasonably low price, at only about $200 for a fine example. This is because the 7 was scraped in the die until it was gone, which was then replaced by an 8. The 7 can still be seen in better-struck examples, which is why these are more desirable than ones where the 7 cannot be seen.
Should I Get A Flying Eagle Small Cent Graded?
PCGS and NGC are the leading companies for coin grading in the world, however, it is also rather pricey to have a coin graded. If your coin is a key date and/or is in exceptional condition, that is when grading becomes a good option with the Flying Eagle Small Cent series. If you have an 1856, you definitely need to have it professionally graded, mostly for authenticity. These are commonly counterfeit, often by shaving off part of the last 8 on the 1858 examples to make the coin appear to be an 1856. Other than that, if you have a mint state example, grading would be highly recommended, but for regular good to extremely fine examples, grading is not generally necessary or even worth it, unless you just really like those slabs.
Every coin is special and individual in their own way and when you learn about a new coin, maybe that will be your next collecting goal!
Yeoman, R S. A Guide Book of United States Coins 2018 Essential Edition: The Official Red Book. Whitman Publishing, LLC, 2017.
Guth, Ron. "CoinFacts.com - The Internet Encyclopedia of U.S. Coins." CoinFacts.com - The Internet Encyclopedia of U.S. Coins, Collectors Universe Inc., coinfacts.com/.