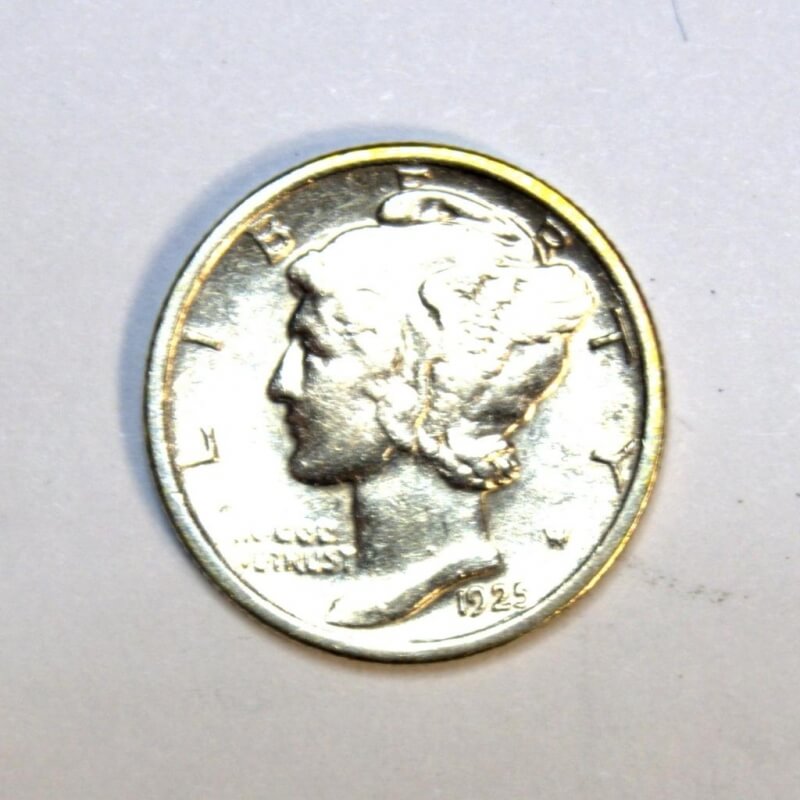 Learn Your Types: Mercury Dimes
Please Note: This series was formerly known as "Coin Individuality," but the name has been changed to "Learn Your Types," effective November 2018.

The Mercury Dime is a coin collected by numismatists throughout the world. Each and every coin is special in its own way, whether it's a Franklin Half Dollar or a Mercury Dime or even a brand-new Native American Dollar. The Mercury Dime is incredibly sought after in the world of numismatists. Almost every serious collector has at least one in his/her collection. Mercury Dimes are made of 90% silver and 10% copper, weighing in at 2.5 grams. The coin has a diameter of 17.9 millimeters and 0.07234 ounces of pure silver. At the time of writing, the silver content of the coin alone is worth about $1.06, far greater than face value for even the ugliest of the Mercury Dimes.
No mint mark - Philadelphia
As with most coins, there are several key dates in the series, which can make creating a set incredibly difficult and costly. The "king of all Mercury's" is the 1916-D. This is the most sought after and most expensive Mercury Dime ever, coming in at around $1,000 for a good example. While most have mintages well into the millions, the 1916-D has a mintage of only 264,000. In comparison, the 1916-(P) has a mintage of over 22 million. While not as much of a key date as the 1916-D, the 1921 and 1921-D are worth well over $1,000 in uncirculated grades. These both had a reasonably low mintage of just over 1 million. The 1926-S is another semi-key date, available for around $850 in a low mint-state grade. Fortunately, there are few key dates in the Mercury Dimes series, which makes a full set affordable for many collectors, save for the 1916-D. That coin alone makes the set very difficult and costly. Without the 1916-D, you don't have a "real" full date and mint mark set, but it is still a great set to collect, due to its silver content, age, and design at a reasonable price for most dates.
Mercury Dimes, as with almost all series, has mint errors. This series does have a large amount of errors, but the two most popular errors in this series are the 1942 and 1942-D overdate errors, which have the 2 struck over a 1. These coins commonly go for well over $1,000 and often go for several thousand, depending on condition.
Should I Get A Mercury Dime Graded?
PCGS and NGC are the leading companies for coin grading in the world, however, it is also rather pricey to have a coin graded. If your coin is a key date and/or is in exceptional condition, that is when grading becomes a good option with the Mercury Dime series. Depending on the coin, however, non-key dates can also benefit from grading. While not an extremely valuable coin in lower grades, if you have a mid to high mint state 1927-S, for example, you should seriously consider grading. Some other alternatives are ANACS and IGC, which are both cheaper, which could be good options for cheaper, non-key date coins. In any grade, however, you should always have the 1916-D professionally graded, being one of the most commonly counterfeit coin. The 1921 and 1921-D are two other coins that would benefit from professional grading in any condition. You should not, however, send your 1939 in Extremely Fine condition, due to its low value.
Every coin is special and individual in their own way and when you learn about a new coin, maybe that will be your next collecting goal!
Yeoman, R S. A Guide Book of United States Coins 2018 Essential Edition: The Official Red Book. Whitman Publishing, LLC, 2017.
"PCGS Photograde Online - Estimating Coin Grades Has Never Been Easier." PCGS, www.pcgs.com/photograde/.
Guth, Ron. "CoinFacts.com - The Internet Encyclopedia of U.S. Coins." CoinFacts.com - The Internet Encyclopedia of U.S. Coins, Collectors Universe Inc., coinfacts.com/.
"NGC Coin Explorer." Online Coin Catalog Search Page - Coin Explorer | NGC, Numismatic Guaranty Corporation, www.ngccoin.com/coin-explorer/.