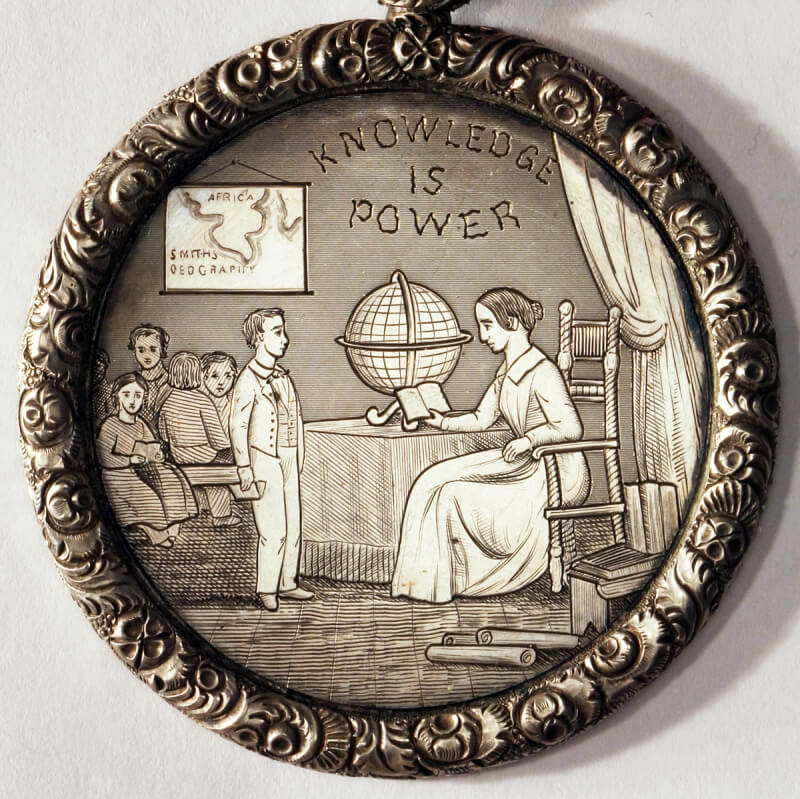 To begin my blog, I thought it might be helpful to explain the image used for my ANA avatar -- it's the following unique American medal:
N.Y. Society for the Promotion of Education Among Colored Children
. 
Silver, completely hand engraved, with a tooled bezel. Diameter 59.5mm, 60.0 grams, with loop for suspension.  Obverse:

KNOWLEDGE IS POWER at the top of an elaborate school scene, with a female teacher seated in front of a table, holding a book and appearing to either teach or give an examination to a boy who is standing in front of her; he is holding a book or paper at his side; a group of students looking on includes both boys and girls; on the wall is a map labeled  "Africa" and "Smith's Geography"

. Reverse: 

(in the center) Ridgway Medal awarded to JOHN W. JACOBS for General Scholarship and Punctual attendance at School. (and around) N.Y. SOCIETY FOR THE PROMOTION OF EDUCATION AMONG COLORED CHILDREN. (with, below) *1855*

.

Notes

By 1855, although blacks were still enslaved in the South, they were free in New York because the state had gradually abolished slavery between 1817 and 1841.  Nevertheless, New York was still highly segregated for several decades, and black children were educated primarily in Sunday schools and private charity schools.  In 1847, a group of prominent blacks in New York City, led by Charles L. Reason , John Peterson and Charles B. Ray founded the New York Society for the Promotion of Education among Colored Children as a charity society to run black charity schools.

According to Carleton Mabee – whose excellent book Black Education in New York State (Syracuse University Press, 1979) provides much of the following history – the Society was chartered by the state legislature and it established a black high school in New York City in 1847.  That school closed the next year, however, due to lack of funding.  The Society also ran two elementary schools which received public funding and operated under the supervision of  the New York City Board of Education.  They charged tuition, though children who could not pay were educated for free.   These two elementary schools had an enrollment of just under 1,000 students and were run by the society for five years, from 1848 to 1853.  In the end, the Board of Education absorbed them into the citywide system, continuing to run them as segregated black schools until the 1880's.

As was the custom in American schools of that time, the teachers and principals in the Society's schools invited visitors to opening exercises, graduations and holiday celebrations, to examine the children orally and award prizes. It appears that they also held general examinations, for which prizes were given, similar to the best white schools in America and Europe.  In 1857, the Society made a special appeal for better treatment of the black schools to a state commission that was investigating the city's schools.  In that appeal, they noted that "…Mr. Superintendent Kiddle, at a general examination of colored schools held in July last, (for silver medals awarded by the society now addressing your honorable body) declared the reading and spelling equal to that of any schools in the city."

Rowell C. Smith's Smith's Geography On the Productive System; For Schools, Academies, and Families, one of the most popular school textbooks of the period, went through serveral editions by several publishers during the nineteenth century.  A large number of wall maps were designed and published to accompany Smith's text.  "Smith's Geography" may have a double meaning since the Treasurer of the Society and one of it's most prominent members was James McCume Smith, MD.  A leading black intellectual and activist, Dr. Smith was widely known for his advocacy of black self-help and the importance of integrating into mainstream society.  This map, together with the globe on the table beside the teacher, seem to suggest to the student that it is important not only to understand your own heritage, but also to understand the broader world.

The inscription "Knowledge is Power" is not unusual on school award medals, which often have allegorical scenes and/or instructive mottos.  Given the likely social status of the recipient, however, it may also be doubly meaningful, suggesting that education (and implicitly, self-help) is the path to one's rightful, equal place in American society.  This motto is attributed to Francis Bacon, but is often shown on medals in Latin as "Scientia Est Potentia" which suggests there may be a more ancient source.  The partially draped curtain behind the teacher provides some aesthetic balance, but also represents the knowledge not yet revealed, which can be attained through the teacher.