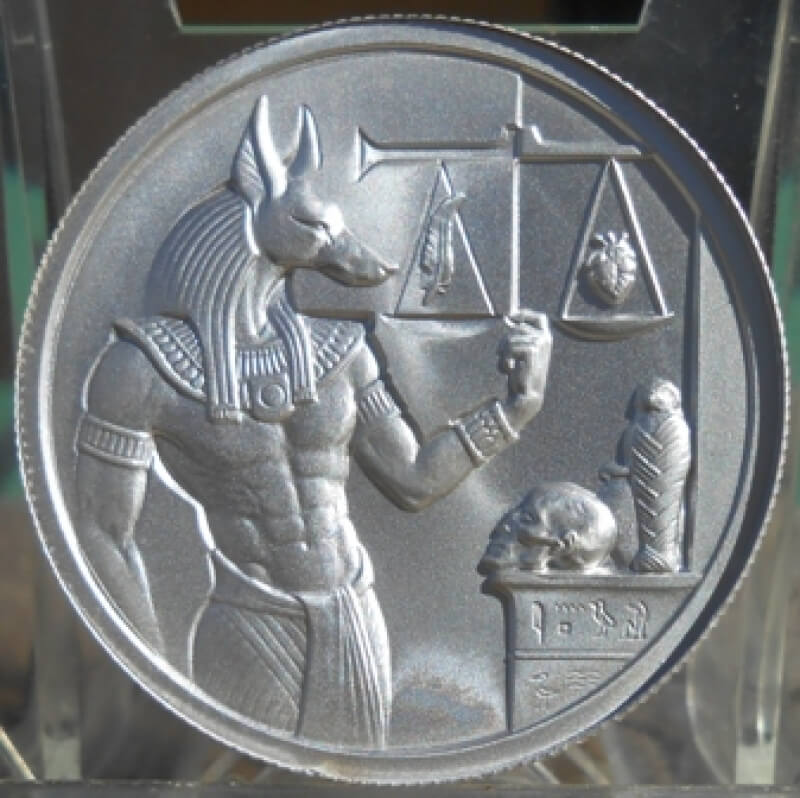 *Anubis*...Now those are some Abs! Egyptian God Series*
"Anubis" is the second release in the Egyptian Gods Series and depicts the half man/half jackal Egyptian god that performs various roles in the afterlife. Anubis is tasked with protecting grave sites from wandering jackals and unlike a typical brown jackal, Anubis bears the head of a black jackal, symbolizing his association with the afterlife.
The obverse features Anubis alongside the "Scales of Justice." The scales are used in the "weighing of the heart" ceremony where the heart of a newly deceased individual is weighed against a feather. Should the feather outweigh the heart, the deceased will move to the afterlife; however, if the heart outweighed the feather, the heart is devoured by a crocodile and the initiate is sent to the lake of fire. Also featured on the obverse is a mummified falcon, a jar of embalming fluid, and a skull, once again representing the connection between Anubis and the afterlife. ( I'd like to add at this point, just for fun??? I was at a live auction awhile ago with all sorts of items being sold and I was able to bid on a vintage embalming machine...No really. The crazy thing was is that I won it! Now what? haha ) On the reverse is a pyramid, reminiscent of those built in the Giza pyramid complex, located on the outskirts of Cairo, Egypt. In addition to the pyramid, a jackal sits atop a winged sun disc, guarded by two serpents known as the "uraeus" or "king's protection." There are detailed hieroglyphics, spelling the name,"Anubis", and traditional Egyptian lotus flowers spring from the bottom border. This is another beautiful piece especially in person. The specs of this round are 2 troy oz. of Silver and an Ultra High Relief design. It was minted at Elemetal Mint. Thanks for your comments!