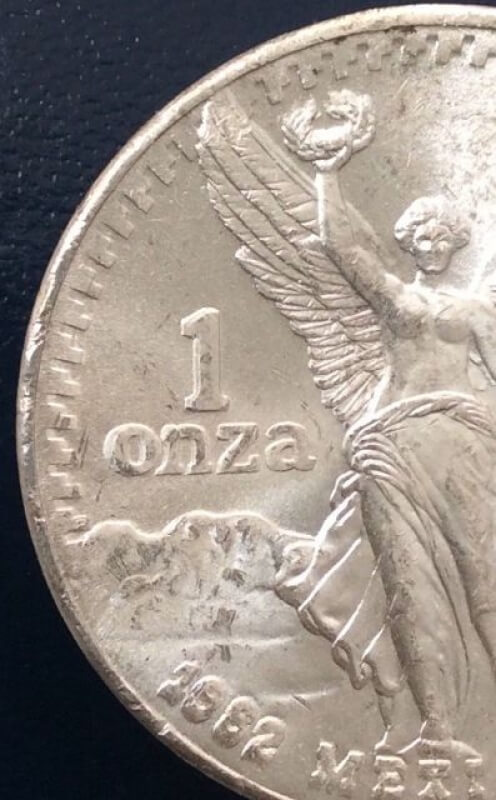 So last week I was looking around eBay, something I seldom do, and saw something new to me. A 1982 one ounce silver Mexican Libertad error. I've never seen a Libertad error. After some negotiations I am the proud new owner if it. This coin is raw, also something I would never buy from eBay. I am pleased to say it arrived as shown.
First off, after some research on Libertad errors, I've found that most like errors that have been graded are called DDO. Now this is dead wrong and NGC and PCGS should be ashamed of themselves. The doubling is on the reverse of this coin, the side with Winged Liberty. The obverse is the side with all the old Coat of Arms from Mexico.
As you can see in my photos, I hope, I have major doubling on the "1 ONZA" of the coin. There is also some doubling on the "PLATA PURA". Although not super rare they are not common. 1982 was the first year of the Libertad series. It is still being produced today. It's a bullion type coin similar to our Silver American eagle.
Here are the specs of this coin as several changes have been made throughout the production of this series. This is the 36 mm size. It was made from 1982-1995. It's 31.1 g of .999 silver. It has a smooth lettered edge. It features the National Coat of Arms of Mexico on the OBVERSE. The reverse features the Winged Liberty statue. It is a KM #494.1.
I'm not going to go into any more details on Libertads. I invite those interested to research it as it's very rich in history. Here is a list of other errors I know of and I'm looking for:
1982 DDR, some are called DDO
1982 Triple Die Reverse, brand new variety, i have the only one so far.
1987 DDR, most are labeled DDO
1988 DDR, some are labeled DDO
1999 Mule, actually is the reverse of 2000, very rare.
1988 1/2 oz Speared P, more to come on this one.
I hope you enjoyed this blog and learned something. Please feel free to comment. Thanks.
SOURCED:
NGC
CoinCommunity
Whitman Encyclopedia of Mexican Coins Volume 2 by Don & Lois Bailey