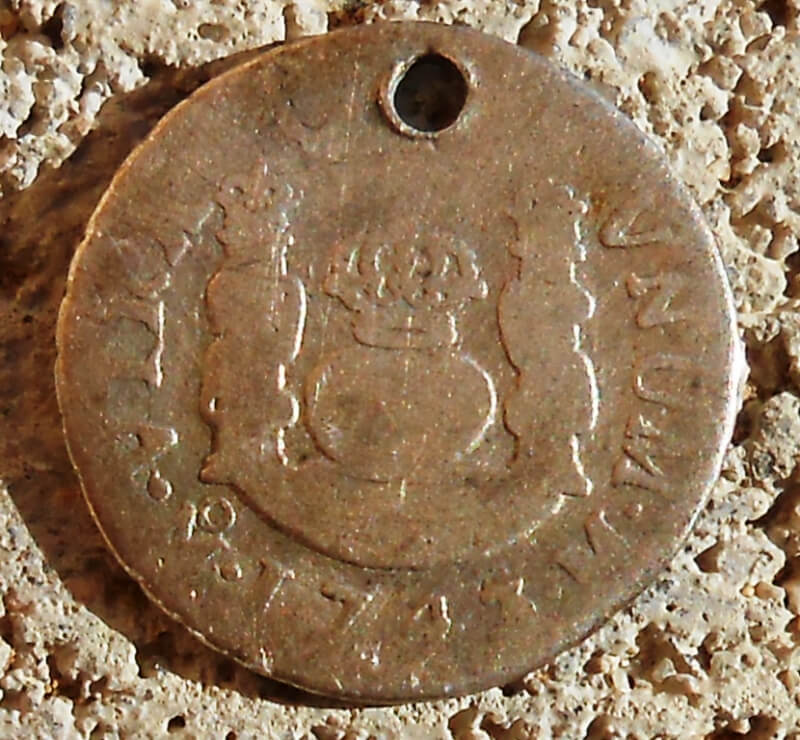 1743 MEXICAN PILLAR ONE REAL
        Ever since I bought that 8 Real Mexican coin that is holed, I have been on the lookout for another holed coin. I have no idea why but they seem to speak to me. Someone likely put a hole in the coin to hang it around their neck for safe keeping. Now that is some history. While looking at some coins online I ran into this one and couldn't resist it

   This is a well worn coin for sure. It is a 1743 Mexican one Real silver coin. Somewhere in its history a hole was punched in it. I imagine it is to make it easier to keep track of. It is a lot more difficult to lose the coin if it's around ones neck. All conjecture on my part but it fits. One needs to keep in mind the age of this coin. The Real was the main unit of exchange around the world. This includes America.
   This small coin is 20 mm in diameter and weighs 3.38 grams of .917 silver. KM# 75.2 is its index number. It was minted at the Mexico City Mint. The year 1743 places it in the Spanish Colonial Period of Mexico. This coin is under the rule of Felipe V of Spain. This style, The Pillar-Style Milled Coinage,  was made from 1732-1747.
   Now for the lettering and features of the coin. The Obverse shows the crowned arms shield along with the value and a legend all around the coin in Latin. The lettering is as follows: PHS. V. D.G.HISP.ET.IND.R *R*  *I*. The translation is Felipe 5th by the grace of God King of Spain and the Indies  1 Real.  The reverse shows crowned hemispheres being flanked by pillars with a legend around and the date at the bottom also all in Latin: VTRA QUE VNUM .Mo .1743. M. The translation is: Both as one Mexico City 1743 M.
   That is a lot to put on a coin but they got it. There is no way to tell when the coin had a hole punched in it. That is what sealed the deal for me. I have found a new sub category to collect in my old, silver, Mexican coins. I hope you enjoy this short but fact full blog. The coin is a piece of Mexican/American/Spanish, and world history. Amazing so much packed into this old, tiny piece of silver. Thanks. I put up two stock photos to help with the lettering. The 1742 Real is not my coin. Enjoy!
SOURCES:
Whitman Encyclopedia of MEXICAN MONEY, Volume 1
   By:  Don and Lois Bailey
 En.numista.com