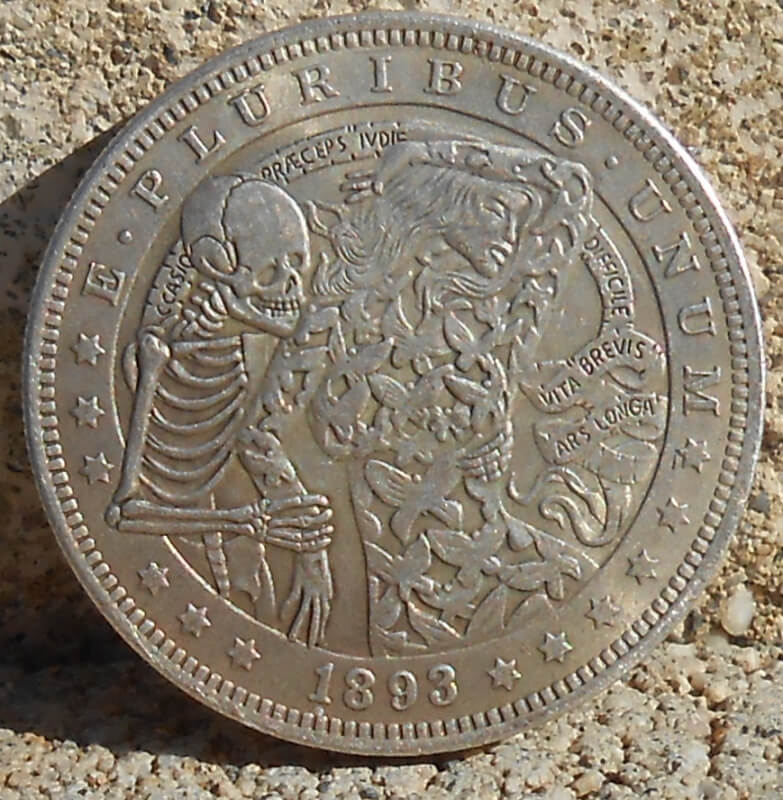 1893 DIA DE LOS MUERTAS MORGAN
   I am going to keep this short as my hand has had some surgery. I was looking for a 1893 Morgan dollar for my type set album the other day. This coin is a bit pricey as there were only 378,000 minted in Philly. I ran into this cast hobo type dollar, I am calling it. I am a fan of the Mexican holiday of "Dia de los Muertos" or Day of the Dead,  and Hobo Nickels after meeting "Tiny" at a Summer Seminar, so I picked it up.
   It is a very good cast example of the 1893 Morgan. Its weight is 26.63 grams vs 26.73 for the original. The diameter is 37.96 mm vs 38.1 mm. Both of these are well within tolerances for a circulated specimen. I have not counted the reeds or denticles. I'm not sure what it's made of, I'm hoping my coin dealer can tell me. I need some help with the translation of the inscription. I know there are some smart people out there that can help. It may be Latin, some is. I got "praeceps-headlong, "dificile-difficult, "vita brevis-life is short, and "ars longa"-art is long. That's it. Any help? Thanks for looking and commenting.
Bibliography:
Catholic School in the 1950's and 60's for Latin