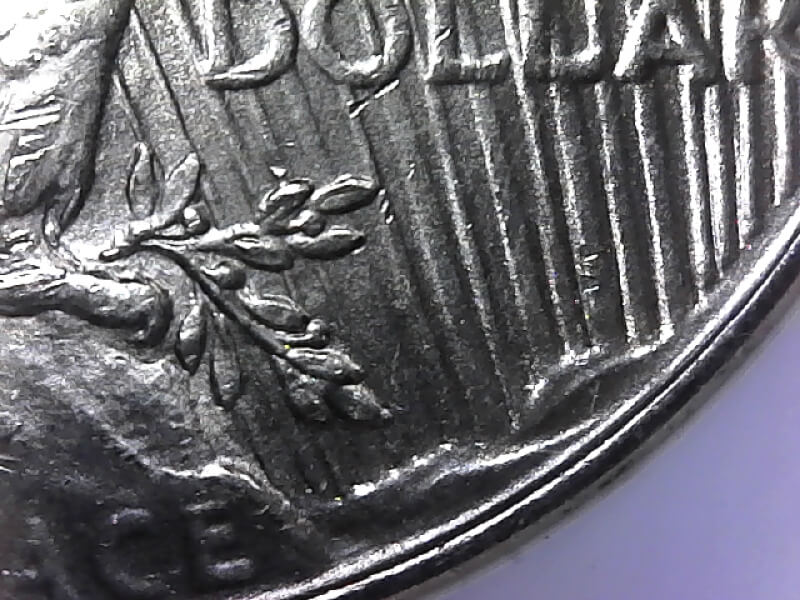 1922 PEACE DOLLAR VAM 1A and DIE STUDY
   Recently I picked up a nice, new 1922 Peace Dollar VAM 1A- "Line in Tiara". Besides being a TOP 50 member, this VAM is a good example of the first reverse die type called a B1 reverse. This reverse was only used in early 1922. It was later changed to a new B2 die that was used for the rest of the series. This variety was discovered by Jeff Oxman in April 1999.
   First the die break or gouge that gives this VAM it's name. It appears on the obverse side. There is a horizontal gouge creating a line in Miss Liberty's tiara. It lies in the rays below the "B" of "LIBERTY". Above this gouge is a smaller line that curves down into it. Also present is a die crack towards the bottom of Her neck. This connects Liberty's neck and the "1" in the date. Splitting this crack is another line that comes off the first one and travels down to split the field between the "1" and "9" of the date. 
   On the reverse side there are slightly doubled rays on the left side below the tail feathers and below "ONE". Also on the reverse is the interesting small die study. The B! Reverse  is different in the later used B2 for the following characteristics. On the B1 the stem of the olive branch and leaves are disconnected from the eagle's right talon. On the B2 reverse the stem appears to be connected. Even more easily to see with the naked eye is the number of mountains or hills next to the rim and below the olive branch and leaves. On the B1 there are two hills whereas on the B2 a third small hill has been added. No one is sure why this die was modified.
   Below, in the photos, one can see these differences. I hope you enjoy this blog. Please feel free to comment.
SOURCES:
VAMWORLD 2.O
The Official Guide to the TOP 50 Peace Dollar Varieties by Jeff Oxman and  Dr. David Close
A Guide Book of PEACE DOLLARS by Roger W. Burdette 3rd Edition