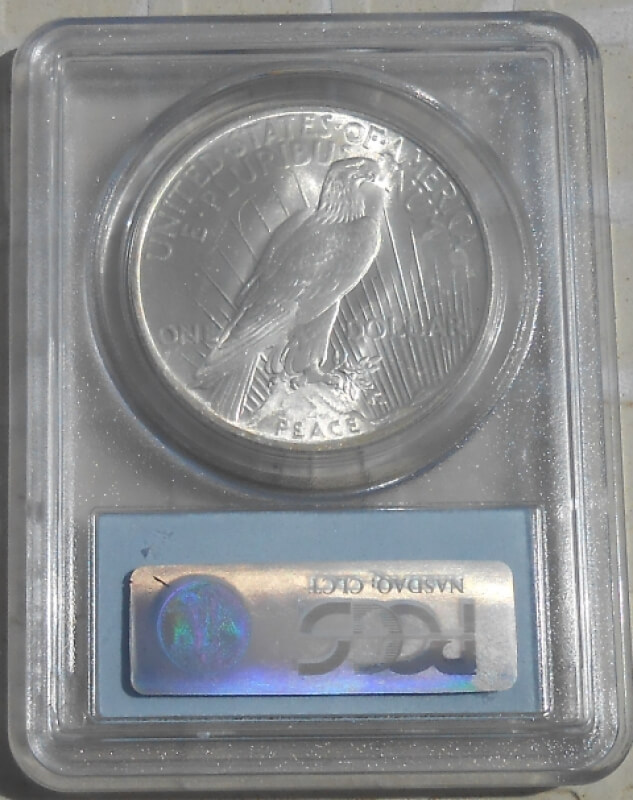 1923 PEACE DOLLAR VAM 1V-EXTRA HAIR-ELITE 30
  Well today I picked up my latest VAM, a 1923-VAM 1V-EXTRA HAIR. It is another Elite 30. It also is another in my sub-set collection of all the Top 50/Elite 30 Extra Hair varieties. I was able to purchase this directly from another member of Vam World 2.0 for a nice price. Thanks Aussie. I hope I'm not boring everyone with sharing my VAM collection coins. I'm very proud of them.
   This VAM features, on the obverse, a vertical die break in Miss Liberty's hair next to the rear of her tiara band. There is also a second vertical die break next to the rear of her hair. This break is almost as wide as it is tall. One must remember that die break show up as raised portions on the coin. Both these breaks are easily seen with just your eyeball. This variety was discovered in 2003 by Larry Briggs.
   My specimen was graded a MS 62 and encapsulated by PCGS. They did list the variety on the label but left of the ELITE 30 notation. I may send it in to get a VAMSeal from Variety Slabbing Service noting this. There are a total of ten Extra Hair VAMs just in this date, 1923-P. I have a few so far and am still looking for the rest. I should also note that this coin is just beginning to tone a beautiful gold. It doesn't show up in my pictures.
   I won't go into more details about VAMs in general,as I have in earlier posts. Please check out the photos below. You can compare them to some earlier Extra Hair varieties and see they are different. Please feel free to comment. Thanks so much for looking.
SOURCED;
VAM WORLD 2.0-------http://ec2-13-58-222-16.us-east-2.compute.amazonaws.com/wiki/Home
SOCIETY OF SILVER DOLLAR COLLECTORS-----http://registry.ssdcvams.com/registry/mbs?14684d25