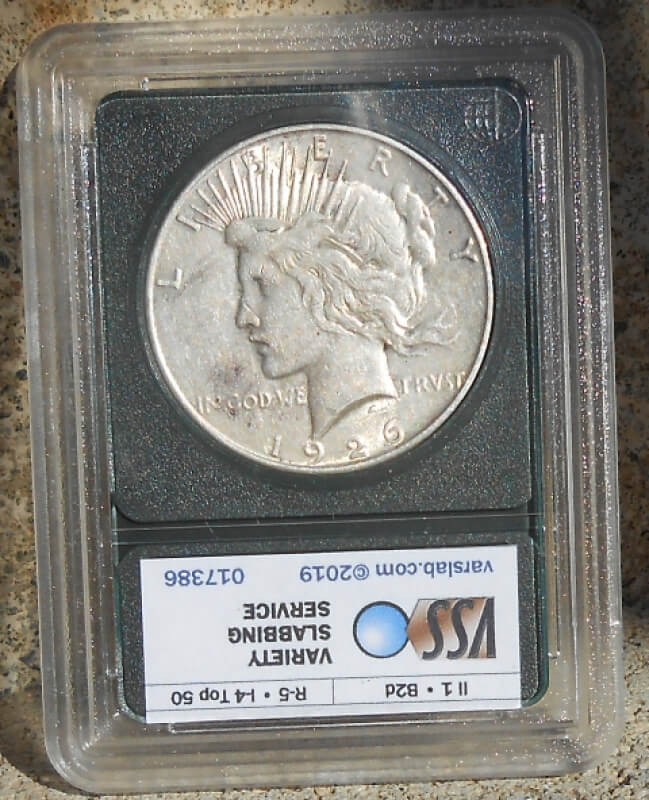 1926-S PEACE DOLLAR-VAM 4A
   Today I have a new, to me, Top 50 Peace Dollar VAM to share with you. Below you will see my example of a 1926-S VAM 4A. This is another Top 50 Peace Dollar VAM. The 4A incorporates the VAM 4 as well as some additional features I will describe. It is a "stand alone" VAM.
  The 4A is a VAM that has a couple of unique features differing it from the 4. I will briefly  describe the VAM 4. The 1926-S 4A is described as " A dot on the reverse". It was discovered by Jeff Oxman in February 1998. Basically it has a small raised circular dot on the reverse of the coin. It lies between the lower left olive leaf and the mound. It also has two tiny dots below the "Of" in "States Of America."
   The 4A has these features as well as some addition ones. It was discovered by David Close and revised by Wall Motorwalla in 2015. It was minted with the same dies, obverse II 1 and a reverse die  B-2d. It has an interest level of I-4 meaning it is a major die variety with universal interest to variety collectors. It's Rarity scale is R-5. That means this is a rare variety with only several thousand found. This may sound like a bunch but given the overall mintage of 6,980,000 of is very small. Besides the VAM 4 dot, there is also present many heavy file lines on 6the right side of the eagle, and to the left of the middle of the eagles wing. These were from an effort, at the San Francisco mint to remove clash marks. One must remember these were just common one dollar coin strikes. Nothing special, just a common practice to extend the life of the dies used.
   There is also evidence of slightly shortened front rays near Miss Liberties hair as well as beveled front rays and hair, forehead, bridge of her nose, lips, mouth and jaw-neck junction. These are all polish lines in an attempt to remove die clash marks. I find this VAM to be a very nice addition to my set, with lots of things going on.
  So there you have it. We start out with a normal, regular hub and die. From there we get the VAM 4 due to trying to prolong the die life. From here we get even more problems in the hub/die combination. As I stated, all this is just for, at the time, was just a batch of dollar coins to be spent by the average man/woman.
 Thanks for reading this blog. I hope you enjoyed it and maybe learned something. Please feel free to comment.
SOURCES:
VAMWorld 2.0
A Guide Book of Peace Dollars by Roger W. Burdette 2nd Edition
Variety Slabbing Service-www.varslab.com