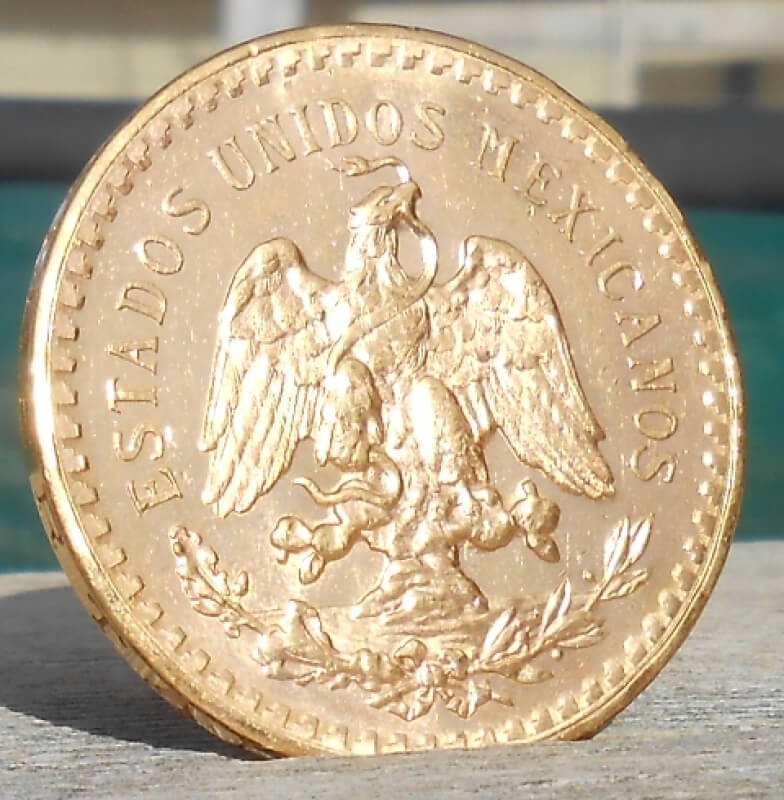 1947 GOLD MEXICAN 50 PESO "CENTENARIO" KM # 481
Below is my specimen of a 1947 gold Mexican 50 Peso coin. This is a very interesting coin to me. It was first minted in 1921 to commemorate the 100th anniversary of Mexico's independence from Spain. It is also known as the Centenario. It was minted as a circulating gold coin under the Mexican Reform Act of 1905. This act would be a blog by itself so I will just leave it at that. The coin was made from 1921 through 1947. In 1947 the original mintage was 309,000. However in 1947 Mexico started minting restrikes, as the coin was so popular by numismatists and also investors. There was a mintage of 1,975,654 restrikes in 1947. The mint also made restrikes in the 1990's and 2000's. The 90's coins were made in a prooflike surface and the 2000's were done in a matte finish. My particular coin is a solid 1947, not a restrike.
Now some specs on the series. The coin is made from 41.6666g of 0.900 gold and 0.100 copper. This is pretty standard for circulating gold and silver coins. Both metals are just too soft to be made pure. You will note that this coin weighs more than one troy ounce. That makes it very popular with investors. It's not rare and can sell at prices just above melt value on occasions. There is no mint mark on the coin other than the 1996 restrikes. They all were minted at the Mexico City mint. This is the oldest mint in the Americas and is still in operation today. The coins diameter is 37mm.
The obverse of this beauty features the Mexican Coat of Arms with the eagle facing forward. His head is to to the right with a snake in his beak. He is standing on a cactus with a spray of laurel and oak leaves. Above all this is the legend ESTADOS UNIDOS MEXICANOS. The reverse has the famous statue El Angel. This statue sits atop Independence Monument in Mexico City. Two volcanoes are in the background. These volcanoes are also famous and the reader may wish to research their story. To the left of the statue is the legend 50 / PESOS. To the right is written 37.5 Gr. / ORO / PURO. On the lower right is 1947. At the left is 1821. Along the edge is written INDEPENDENCIA Y LIBBERAD.
P.S.. I just wanted to be clear. The Coat of Arms is the obverse side not the Winged Statue. Much like the Queen is the obverse on British and Canadian coins. An often made mistake. Even by the TPG's.
I hope that you enjoyed this blog and learned from it. Any errors are mine. Please feel free to comment. The photos do not do the gold coin justice.
SOURCES:
ENCYCLOPEDIA OF MEXICAN MONEY by DON and LOIS BAILEY vol. 2 /20115
NGC