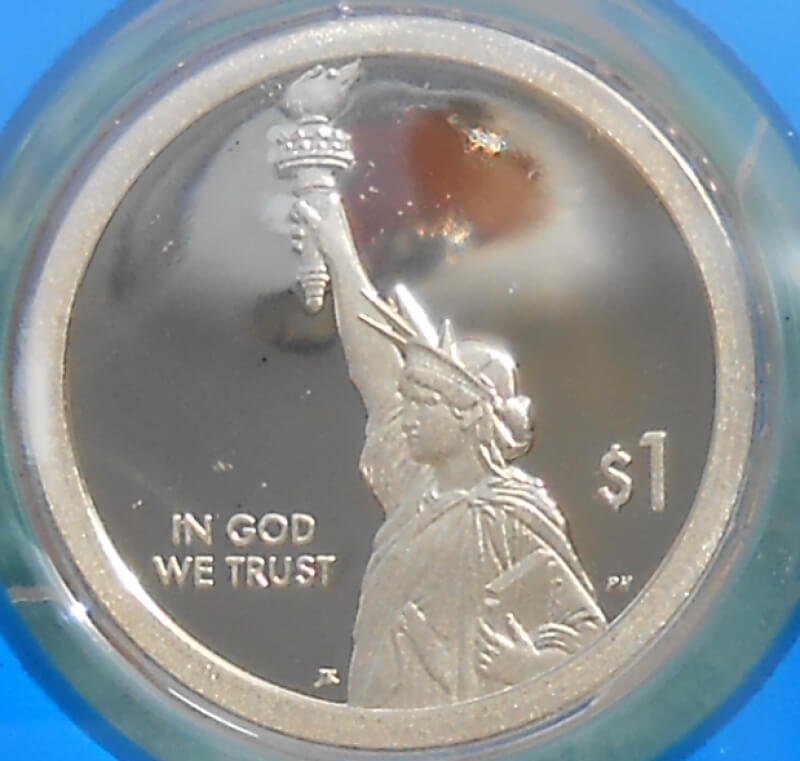 2018 AMERICAN INNOVATIONS FIRST COIN IN SERIES
Last month, December, I was able to order a coin from the mint that I don't want to collect, had no household limit and no mintage limit. My luck was great. I'm talking about the mints new Innovations coin. I don't want to collect the set but I did want the first one issued. As I understand it, the set will go on for a lot of years. Well it came and I feel it is a very nice coin.
It's one of those fake gold colored dollars. The obverse features Justin Kunz's rendition of the Statue of Liberty in profile. It was sculpted by Phebe Hemphill. Inscribed is "IN GOD WE TRUST" and "$1". The proof finish is spotless, unlike my photos. Sorry. The reverse was designed by Donna Weaver and sculpted by Renata Gordon. It features the inscribed signature of George Washington and the words "UNITED STATES OF AMERICA". Also inscribed are the words "SIGNED FIRST PATENT". It also has some very nice stylized gears which represent industry and innovation. The coin also has edge lettering with the date and mint mark as well as stars and the required legend "E. PLURIBUS UNUM".
The coin comes in a nice hard plastic, sealed box with a certificate of Authenticity. There will be a coin issued for each state as well as D.C. and our U.S. territories. As stated on the C.O.A. the first U.S. patent was issued in July 31, 1990 for "Improvement in the making of Potash and Pearl ash". I found that very interesting.
I hope you enjoy this short blog and can make out something from my photos. Feel free to comment. Thanks for your time.
SOURCED:
U.S.MINT