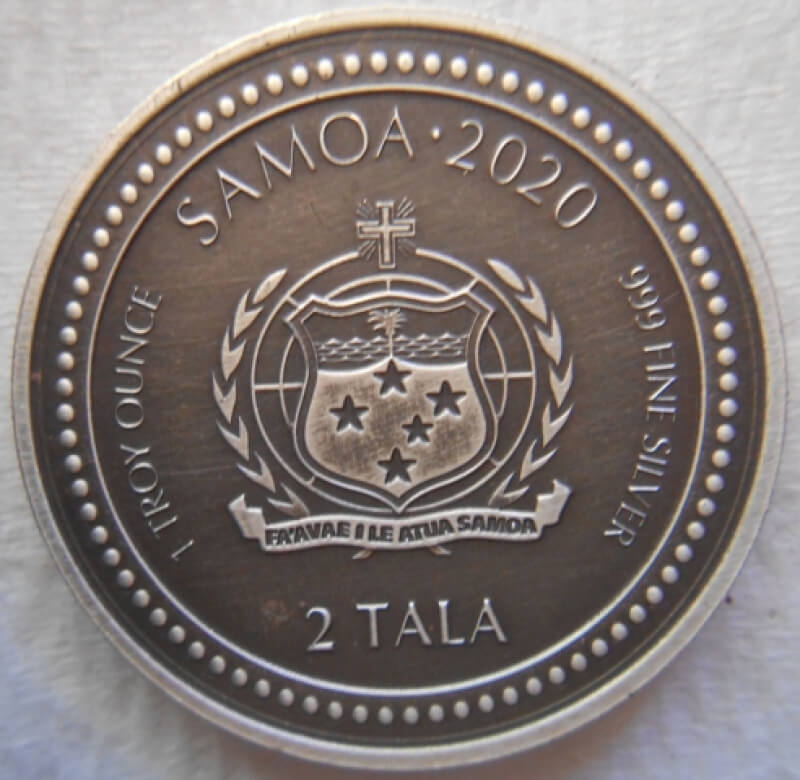 I picked up an interesting coin the other day I want to share here. It is a 2020 Samoa Silver 2 Tala. It is a one ounce of 99.999 silver, non-circulating but legal tender coin. It caught my eye for a few reasons. First it has an antique silver finish. I always wanted to see one of these in my hand. Next and most important it features a dragon-like reptile on it. I'm a dragon freak.
   The coin is featured as the first in the new "Sepants of Milan" series being sold by Samoa. It was minted by the famous Scottsdale Mint here in the USA. I have no idea how they decided to make Milan coins, other than they are cool. The reverse features a depiction of The serpent of Milan. This is the primary image on the medieval coat of arms of the House of Visconti. The serpent is seen eating a child and is called a "Biscione".
   The Visconti family line began during the rise of power in Milan, Italy during the 11th century, until 1447. The design also shows a wreath of olive leaves encircling the rim. This image is still in use as the emblem of Alfa Romeo cars.
   The obverse has the Samoa national crest with the date above, weight on the left, fineness on the right, and value below. The legend "FA'AVE LE ATUA SAMOA" which translates as SAMOA WAS FOUNDED BY GOD. Two Tala is currently worth about $0.75 USD. The coin weighs 31.1 grams, is 39 mm in diameter and 3.2 mm thick. It also has a reeded edge.  It's a beautiful coin that has a nice heft to it in hand. I really like this antique finish. It is nicer than I imagined it would be. Since the coin is backed by a nation and has a monetary value it is considered a coin and not simply bullion.
   I hope you enjoy this blog and the coin pictured below. Please feel free to comment. Thanks for looking.