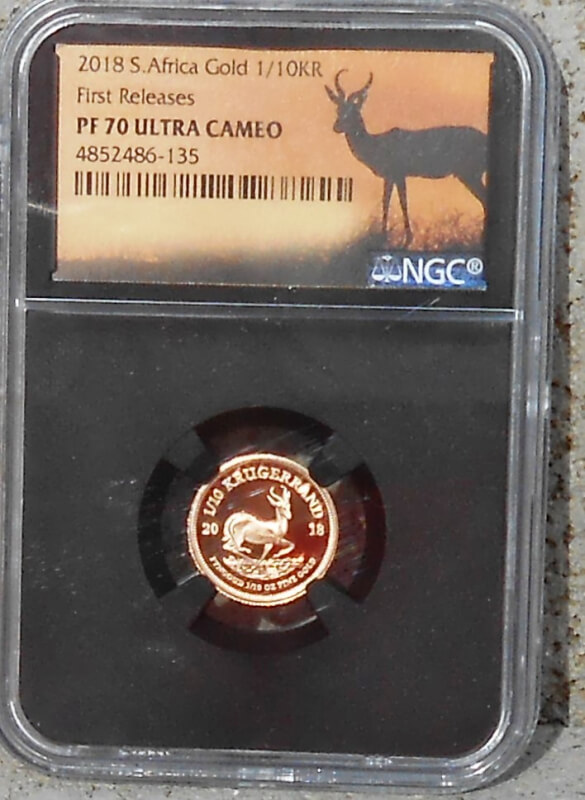 If you were around in the 70's and 80's, like I was, the South Africa Gold Krugerrand was all the rage. If one was trying to be cool one NEEDED it. If you were really cool you wore it on a chain around your neck to the disco. I wasn't cool, surprise. However I did admire the coin. The color of the gold was and still is very unique. It has a more orange color than most gold coins. I never bought one. I didn't have the money back then. When I did get enough money for some gold coins I went with Canadian Maple Leafs'. A more pure gold mixture at the time was in the Canadian.
   As I got older I bought a few more bullion gold coins and finally switched to the Gold American Buffalo with a .9999 fineness. I try to buy American. Never did stop admiring the Krugerrand though. On Christmas day I became the proud owner of a 2018 1/10th ounce PF 70 Ultra Cameo coin. What a beauty she is too. After a little research I came up with the answer as to why it has such a unique color of gold.
    The South African Krugerrand was the first gold coin minted by a country to help it's mint and country make money. It was first minted in 1967 and is still going strong. Other countries have since followed with their own versions. Besides being made as a bullion coin, the Krugerrand was made legal tender. Because of that distinction it needed to be more durable than a pure gold coin would be. To this end it was alloyed with copper. Other less durable gold coins are commonly alloyed with silver. The Krugerrand is made at 91.67 purity.
   Its name is a compound of "Kruger", four term president of the old South African Republic, and "Rand" being the South African unit of currency. So that leaves the obverse bearing the face of old racist Paul Kruger and the reverse featuring a Springbuck or Dick-Dick, a national symbol. Krugerrand's can now be found in weights of one ounce down to 1/50th of an ounce.
   I hope you enjoy this small blog. Check out the photos at NGC to enlarge them at https://www.ngccoin.com/certlookup/4852486-135/70/
Feel free to comment. Happy New Year!
SOURCES:
 NGC
EN.NUMISTA.COM