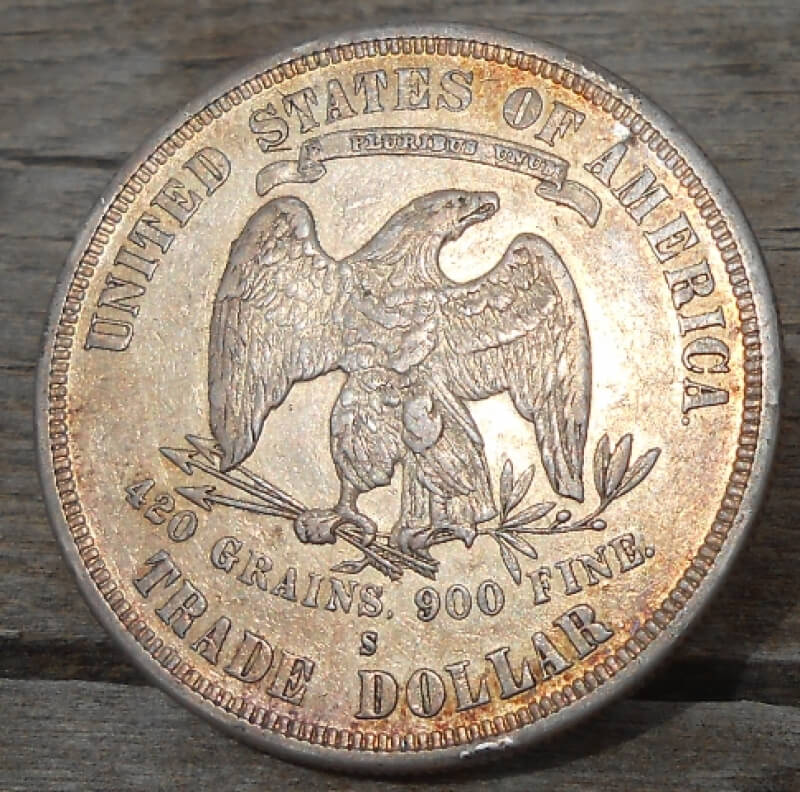 A VAM MAN'S SHORT GUIDE TO TRADE DOLLARS
If you have been reading my blogs for a while, you will know that I usually blog about VAMs and Civil War currency. Not exclusively but usually. Lately I started a US Type coin album, Dansco #7070. This has led me back to basics on learning about coins I usually don't collect. This blog is about one of those coins. It is about, the often maligned, Trade Dollars.

The coin I bought a few days ago from my regular dealer is a 1877-S Trade Dollar. Now I do have one other but is a high dollar example. In fact it is an ex-Eric P. Newman/Col. Green example. This one is a circulated example. It still wasn't cheap. I guess it's just a little bit expensive type.
The first thing I discovered, by looking this one up, is that there are two types in the series. My coin appears to be the second type. This means there is no berry under the eagles left talon. Also the arrowhead ends over the 2 in 420. The obverse scroll points downward and Miss Liberty has four fingers on her extended hand.
The Trade Dollar was made in 1873-1885. It was issued to compete with other nation's coinage in trade with Asia, mostly the Reale and Peso. That is the reason the mint included the weight, in grains, on the reverse. Some examples have "chop marks" on them. These are counter stamps that were put on the coin by Asian traders to show they certify the weight as true and sometimes they were used to advertise their stores. Some people love that some hate it. Sadly our Trade Dollars never really were accepted and the mint stopped making them in 1887.
It is thought by many people that the Trade Dollar was really made to use up some of the silver glut we had at the time. Need to make those silver company people happy. The design was made William Barber and weigh 27.22 grams or 420 grains. They are a nice large 38.1 diameter and are struck in .900 silver. The Mexican coins used then weighed more, 416 grains but was also of higher fineness silver.
What I am trying to say here is that it is good to get out of your regular area on collecting. This will bring you back to research basics. There is nothing like the good old Red Book. I was able to use my new 2020 issue for this. I always liked this design and enjoyed re-learning about it as well as many more facts. The Trade Dollar was made during a very interesting time in our history. To learn the reasons behind the production of this coin is to learn about the USA at that time.
Thanks for reading this blog. I hope you learned something. Please feel free to comment. Thanks for your time.
SOURCES:
2020 RED BOOK
SILVER DOLLARS and TRADE DOLLARS OF THE UNITED STATES.—Q. DAVID BOWERS
NGC