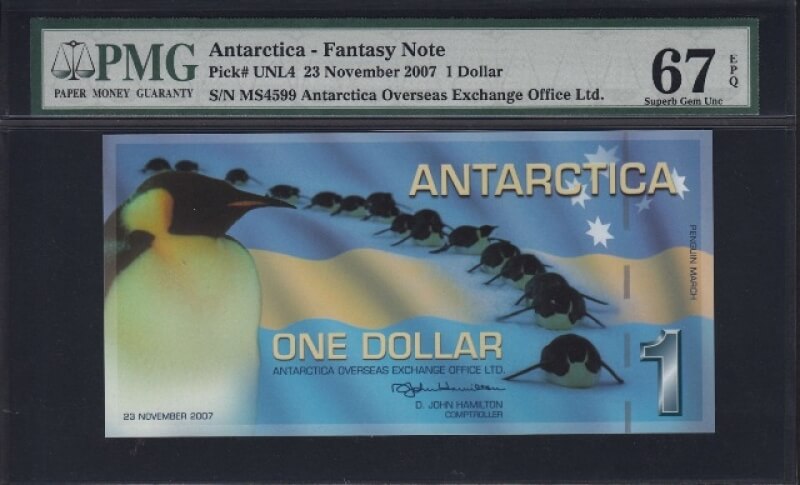 ANTARCTICA ONE DOLLAR NOTE
More than a month ago my wife saw this note on one of our favorite auction sites. Since I love anything about Antarctica, she went ahead and made a fair bid on it and forgot about it. Low and behold we received a winning bid alert from the auction house this Monday. What a surprise. She totally forgot about it. What a great surprise for me.
Although this is a Fantasy note, Antarctica has no formal government just a bunch of research scientists, I love it. It is printed by the British American Banknote Company for The Antarctica Overseas Exchange office Ltd. This is a private company that uses 80% of its sales to help finance different research projects in Antarctica. The note is in fact redeemable at face value if returned to the comapnay before a stated date. Therefore it is not a Specimen note as some are. Those are clearly marked specimen.
My note was issued, as stated on the note, November 23, 2007. I had until 12/31/2012 to return it to the company office for refund of one dollar. It features the march of the Emperor Penguins on the front. The back shows the same penguins nesting on their chicks. There is even an anti counterfeiting strip and the unique serial number is inside a hologram. My note has been graded by PMG, as a 67 Superb Gem Unc. EPQ. Other ungraded notes are available from the company. The new ones are even polymer.
To me this is just a fun, beautiful note from the continent that is the largest desert on earth. I hope you enjoy this fun blog. Please check out the photos. Please feel free to comment. Thanks for looking!
SOURCES:
PMG
ANTARCTICA OVERSEAS EXCHANGE OFFICE LTD.
ATSNOTES.COM
GEOLIGY.COM