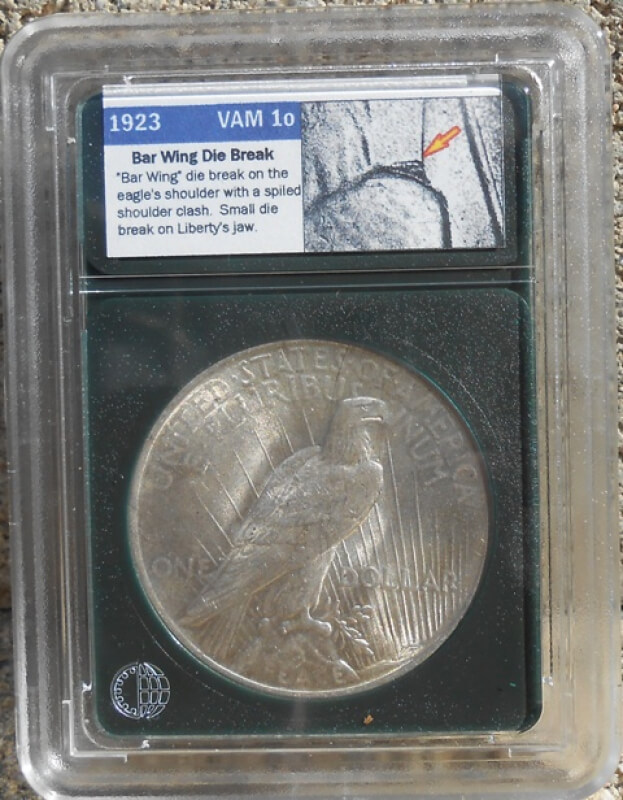 BACK IN THE VAM SADDLE AGAIN
† †Well, it seems we are up and running in the blog comments again. I would like to show everyone some of my new acquisitions I made during our hiatus. Don'Äôt worry, I'Äôll only do no more than one a day. So for today I have a nice 1923 Peace Dollar VAM 1o. This one has been attributed and slabbed by VariSlab.

†† The 1923 Peace Dollars are considered the most common of the entire series. This is even though they did not enjoy the highest mintage. This is due to the fact that many 1922 Peace Dollars were in circulation when the mint started making the 'Äė23'Äôs. This fact led to many 'Äô23's ending up in mint bags for decades. This also led to so many in mint state today. Overall, it has the highest quality year run with good strikes and plenty of strong luster. On the down side, along with the 1922'Äôs, many specimens suffer from milk spots.
†† The reason this year, 1923, has so many different VAMs is thought to be because of the mints were still experimenting with trying to make damaged dies last longer. This led to many die breaks, polish lines as well as file marks and chips. After all, at the time, they were just another bunch of dollar coins. They were just money, nothing special.
†† Now, on to this VAM in particular. The 1923 Peace Dollar VAM 1o is called 'ÄúThe Bar Wind Die Break'ÄĚ. If I did a proper photography job, you should be able to see it on the reverse. This die break is on and above the eagles left shoulder. That is the right side as you view him. It appears to be a crescent shape. Along with that there is a clash mark that shows as a spike coming off it. On the obverse is a small die break on Liberty'Äôs jaw above the 'ÄúE'ÄĚ in 'ÄúWE'ÄĚ in the motto. These breaks and clash marks have made this VAM a Top 50. That is just a thing that VAM collectors try to attain. I do at least. A set of popular 50 different VAMs.
†† The hubs used on this coin are 'ÄúII 1'ÄĚ on the obverse. This is a common hub. The reverse hub is a †'ÄĚB2a'ÄĚ. I say hubs as they are used to make the many actual dies used. I will go into the meaning of this in a later blog discussing Peace Dollar VAMs in general. The interest level for this VAM is R-3. This means it is a significant die variety with general interest to variety collectors. The rarity is R-6, very rare with several hundred 'Äúin the wild'ÄĚ.
†† I hope you enjoyed this blog and learned something. Please feel free to comment, good or bad. Have a great Independence Day!
SOURCED:
VamWorld 2.0---http://ec2-13-58-222-16.us-east-2.compute.amazonaws.com/wiki/Home
A Guide Book of PEACE DOLLARS'ÄĒRoger W. Burdette
VARSLAB.COM