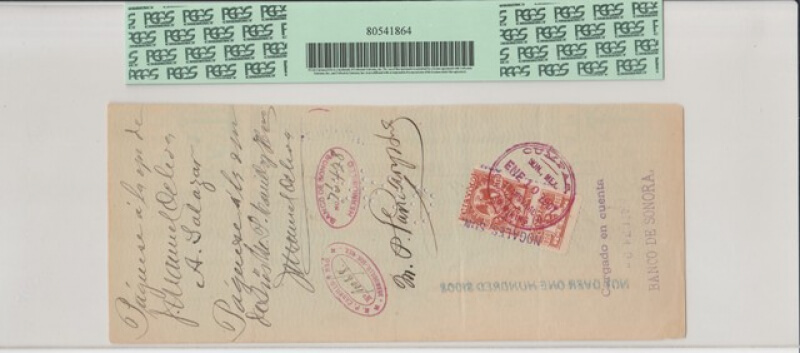 BANK OF BISBEE-PAY IN MEXICAN SILVER
Today I have something a little different in my blog. As you can see in the photos, it is a cancelled check from The Bank of Bisbee, Bisbee Arizona. The check was written on January 10, 1907. It is made out to A. Salazar in the amount of $ 87.15. The interesting thing is the stamp "MEXICAN SILVER" as payment. It is drawn on the account of the Transvaal Copper Mining Co.. The chief clerk to sign it is C.O. Bussmann. The penmanship of everyone is remarkably beautiful.
There are several counter signatures on the back. Also there is a Revenue Stamp that is red and says 2 CENT, the Coat of Arms of Mexico and the word Mexico, the dates 1906 and 1907. There is a rubber stamp from the mining company in Sonora, Mexico cancelling it. Also are two stamps from Banco De Sonora in Hermosillo, Sonora Mexico. As well as Nogales and a few others I can't clearly make out. There is a big Mexican influence with the mining company. The check is mounted by PCGS Currency and graded as a Very Fine 35, Perforated Cancelled and Ex. John F. Ford Collection.
Bisbee is a city in the Mule Mountains of Southeast Arizona. In 1877 as part of a scouting party for the U.S. Cavalry looking for renegade Apache, Jack Dunn instead found signs of lead, copper, silver and gold. This led to the first mining claim being filed in that area. It became such a rich discovery that Bisbee became known as "The Queen of the Copper Camps". Bisbee eventually produced more than 3 million ounces of gold, more than eight billion pounds of copper as well as silver lead and zinc.
During the time this check, probably mining payment, Bisbee's population soared to over 20,000 people. Today, about 5,192 people live there. It has become a huge tourist attraction and destination. It has strove and mostly succeeded in keeping its old west town mystique. At the same time it does cater to its tourist and artist trade.
I hope you enjoy this blog. I found this check very interesting and won it at an on line auction. Please check out the photos. The old black and white photo of the bank was taken in 1940. Feel free to comment. Thanks for your time. Enjoy!!
SOURCES:
HA.com
Discoverbisbee.com
Shorpy.com
Worthpoint.com