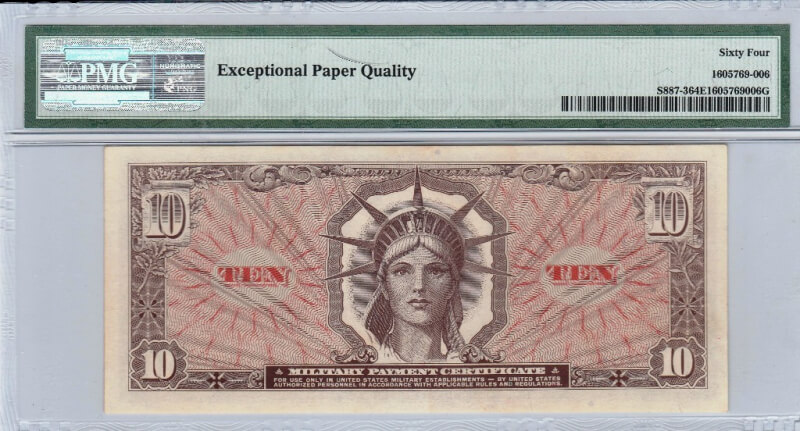 The latest addition to my growing MPC collection was a birthday present from my wife, thanks babe. In the photos below you can view my new Series 641, $10 Third Printing MPC. It was graded by PMG as a 64 Choice Uncirculated EPQ or Exceptional Paper Quality. It has a Schwan number of S887-3. The serial number is kind of cool as well. The Plate Position is 24.
   The Series 641 has the distinction of being the first series that was used in Vietnam. They were first issued on 31 August, 1965. They came in denominations of 5, 10, 25, and 50 cents. They were also in 1, 5 and 10 dollars. The ten dollar has the distinction of having been one of the most heavily counterfeited notes.
   All the notes in the series have the prefix and suffix letters in the serial numbers of J-J or J. If the note is a replacement, it does not have a suffix letter. This is similar to our Star notes in regular issue currency. The Schwan number is similar to Friedberg numbers on regular issue notes. They list the different varieties of MPC's. This particular note is a 887/3. That means it falls within the serial numbers of the 887 variety of Series 641 $10 bills. It is also a Third Printing. This number falls within all serial numbers between J08,400,001J and J20,400,000J. There is a total population of 12,000,000 of this variety or Schwan Number.
   This ten dollar note is red, brown, and light blue in color. The front pictures an allegorical woman. The back has the head of the Statue of Liberty. There is no security thread and no watermark. It's size is 156 x 66 mm.. There have been no replacement notes reported for this variety.
   I hope you enjoy and learn from this blog. MPC notes are a very interesting category of numismatics. Thanks.
SOURCED:
   The Comprehensive Catalog of Military Payment Certificates—By Fred      Schwan—Fourth Edition
   The Banknote Book : United States- (Military Payment Certificates)-By Mark Irwin & Owen W. Linzmayer