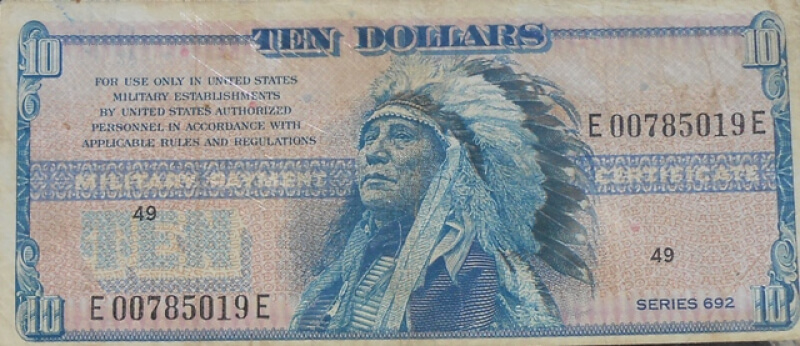 A few people here have been asking what we collect. Here is an example of something other than Peace Dollar VAMs that I collect when I see a nice one. This is my newest example of a Military Payment Certificate or MPC. This is, in my opinion, one of the most outstanding MPC we made. In fact the entire Series 692 has been described as the "Most American" of all the different series of MPC's.
   The MPC's are made in series just like our regular currency. This note is a series 692 which means it was issued for circulation between October 7, 1970 through March 15,1973. They were issued in eight different denominations and used exclusively in Vietnam. A total of 214 million dollars in face value were issued. For you star note collectors, all series 692 MPC's have a serial number that ends and begins with the letter "E". A replacement note has a serial number that just ends with a number.
   My note happens to be a First printing. It is a ten dollar bill and my favorite. It features a portrait of Chief Hollow Horn Bear on the front. He was a very famous Brule Lakota leader that fought in many of The Sioux Wars battles including The Little Big Horn. he eventually became a key speaker for the Soiux People in peace negotiation in Washington D.C.. In 1905 he was chosen to be one of the Native Americans to ride in the inaugural parade of President Theodore Roosevelt. 
   The back of this bill shows an eagle with its wings spread and talons ready to go into action. It drips Americana. I hope to be able to purchase the twenty dollar bill of this series next. It is similar in the Native American design and has Chief Ouray of the Ute on the front. My MPC has been slabbed and graded by PMG. This is a good idea as there are a ton of counterfeits out in the wild. I hope you enjoy this blog and maybe learn something. Please check out the pictures and feel free to comment. Thanks!
P.S. The big scratch on the front is on the plastic. It doesn't rally show in hand.
SOURCES:
Antiquemoney.com
Coinweek.com
Legendsofamerica.com
Thebanknotebook.com
Robertsworldmoney.com