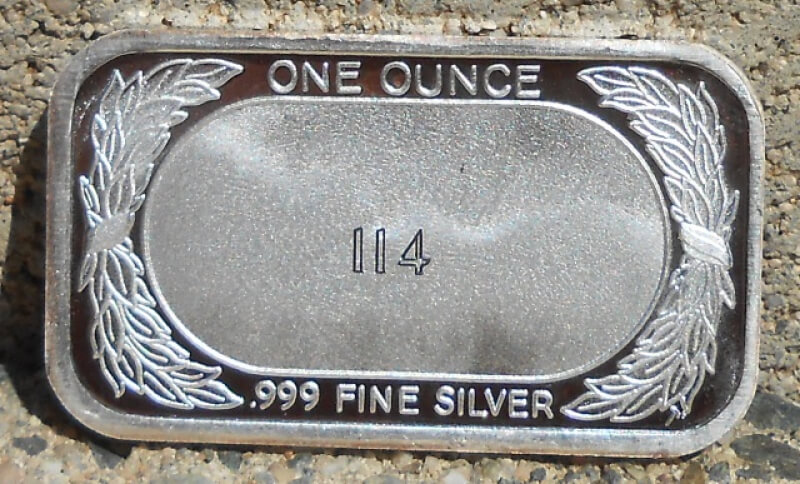 CONECA ANNIVERSARY SILVER BAR/MEDAL
  This is going to sound like I am "tooting my own horn", as is said, but I am putting this blog up as I want to show the silver bar. Around last month I sent in an article to the CONECA newsletter, ErrorScope, for consideration. Much to my surprise it was accepted. It can now be seen on the new Sept/Oct issue on pages 14 & 15. It is a rewrite of one of my blogs; "Back in the VAM Saddle Again" that first appeared here. It would never have happened if not for the help and prodding of my friend here at our site. You know who you are Cuz. As a gift for "being published", my beautiful, young wife gave me the gift below.
   This is a one ounce silver bar/medal that celebrates the 100th anniversary of the overdate strike of the 1918/7-D Standing Liberty Quarter. It also celebrates the 35th anniversary of CONECA itself. For those that don't know CONECA stands for Combined Organizations of Error Collectors of America. CONECA is the best club for all error coin collectors, in my opinion.
   The bar itself features the obverse of an 1918/7 Standing Liberty Quarter on the left and the flying eagle from the reverse of the coin, on the right. The CONECA anniversary dates are on the bottom right. On the reverse of the bar is the serial number. Mine is 114 of only 125. Also shown is the weight and fineness of the silver. It is delivered in an Air-Tite Capsule.
   I am very proud to be a member of this fine organization. I am doubly proud and humbled that they chose my article to publish. I understand from another blog here that CONECA is offered, free of charge, to all Y.N.. I recommend you join and purchase a bar so as it is almost sold out. There are several other styles so all is not lost.
   Thanks for reading. Please check out the photos. I want to state that the bar/medal is much nicer than my photos.
P.S.. I wanted to add something. I just received a catalog from a coin dealer. They have one 1918/7--S coin for sale. It's in VF-30 condition. Price is a low, low $4,795.00!! Yikes..
SOURCES:
CONECA- https://conecaonline.org/