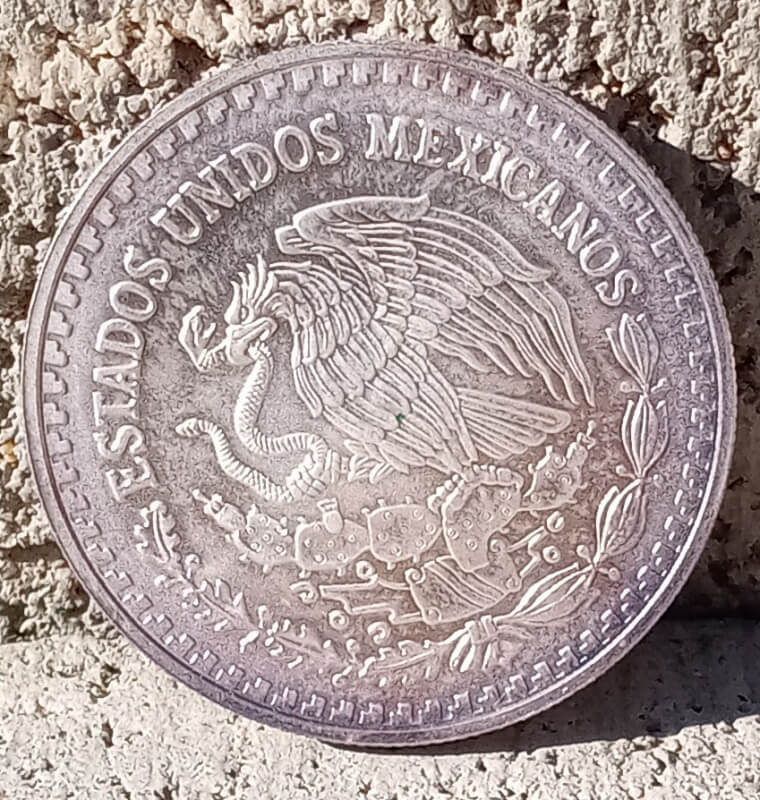 Well, I waited for someone else to write this but it doesn't look like that will happen. I guess it's up to me. Below are the coins that I was given on Father's Day. Before you start wondering how many kids I have I want to say that these are from all the Creatures that live in The Compound.
   First off is a beautifully toned 1997 one ounce silver Mexican Libertad. I collect these beauties and this is one I needed for my book. The photos don't show it that well but the Obverse, with the eagle, has a great blue toning along most of the edge. The reverse has an overall dark toning with blue highlights. Very cool coin. Next up is another coin from Mexico. This one also goes in an album. My Dansco Mexican Type Set of, now, older coins.
   This is an example of the 1957 one peso circulating commemorative coin. It is a celebration of the 100th Anniversary of Mexican Independence. It is 34mm and has a silver content of .100. It is starting to develop a subtle golden toning.
   Next up is the 2022 Niue minted, non circulating New Zealand dollar coin. It is 39mm of pure .999 silver. On the obverse is Queen Elizabeth II. The obverse shows a tiger fighting a Komodo dragon. The Komodo dragon is my favorite reptile and was the logo of my reptile breeding business. It is a proof issue. If one looks closely you can see where the mint messed up on the frosting of a bamboo stock. It is left of the tiger. Not sure if it is an error or a VAM as I need more coins to tell. Hmmmm…
   The last coin is truly amazing. It is a copy, in silver, of the gold Pan Pacific Exposition coin. A coin issued to honor the Expo back in 1915. It was held in San Francisco to honor the completion of the Panama Canal. It is an odd octagon shape with the reverse featuring an owl on a Ponderosa Pine branch. The obverse has Minerva, Roman goddess of warfare and wisdom facing left. The inscription "IN GOD WE TRUST" included. The top of her shield has the Roman numerals for 1915 inscribed on it. I have always wanted one of these coins but they are crazy high priced. This two ounce silver copy of it works real well for me.
   That's it for me. I'm hoping others will show what they received. Remember it's not the gift that counts. It's the love it represents. Happy Father's Day to all.
SORCESSES:
En.numista.com
Modern Coin Mart