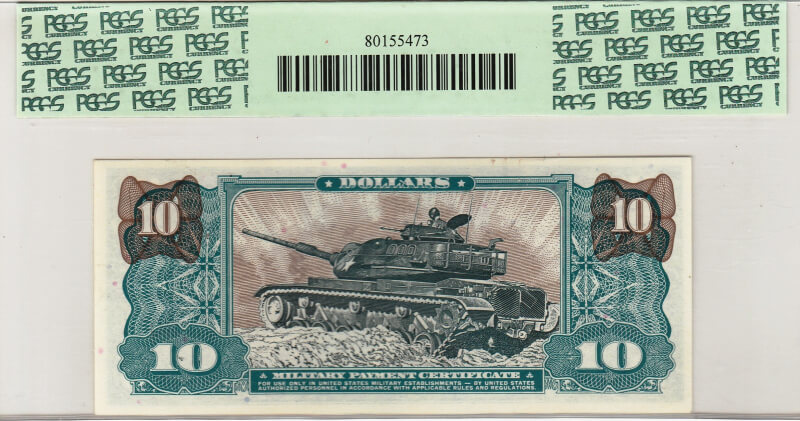 IMPOSSIBLE TO GET MPC NOTE----ALMOST
   I have seen several blogs about different "holy grail" coins or currency. I thought I would show you one of mine. Last week I was lucky enough to win an auction lot at Heritage. If you have never been to one of their auctions you should check them out at ha.com. They have quality items and many, many auctions.
   This particular auction was all MPC, Military Payment Certificates. To my surprise they had three lots of my favorite MPC, the Series 681-$10 note. After putting in a low bid on one of the lots, I watched for over a week as the bids slowly climbed. It turned out that I wouldn't be home when the bidding closed and went live so I upped my bid to my maximum. Low and behold I somehow won the auction.
   The amazing thing is that this particular series note and denomination seldom comes up for bids. As you can see in the photos this is a very cool note. The Series 681 was issued 11 August, 1969 until 7 October, 1970. This was the third series of MPC's to be used exclusively in Vietnam.
   The ten dollar note, on the front or face shows an Army Special Forces master sergeant with his M14 rifle in hand. In the background are a jungle village, two soldiers, and a Shawnee CH-21 helicopter. On the back is an M48A4 tank in action.  Almost the entire run of this series depicts contemporary military themes. Something most of the other series do not do.
   Since I started collecting MPC's I have wanted one of these "tank" notes. They are so rare and expensive I never thought I would get one. Well the hunt is everything and by not giving up I found one I could, almost, afford. I don't usually bid on a MPC on a PCGS holder. They are very large and do not give the info that PMG slabs do. Maybe someday I can have it reslabed by PMG. However after the nightmare of that POW chit lost in the Registered mail, I may hold off for a while.
   I hope you enjoyed this little story of mine. Please check out the photos and feel free to leave comments and questions. Thank you!
SOURCES:
   Comprehensive Catalog of Military Payment Certificates by Fred Schwan 4th Edition, Collectors' Edition
   A Concise Catalog of U.S. Military Payment Certificates by Carlson R. Chambliss