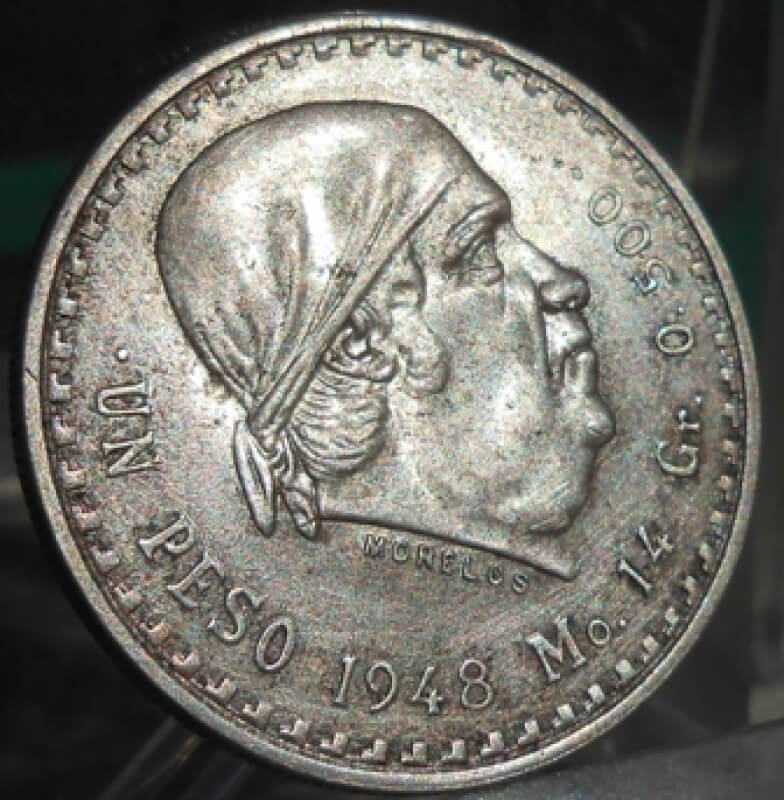 JOSE' MARI'A MORELOS y PAVO'N
The coin I am putting up today is a silver Un Peso minted in Mexico City in 1948. At first I found this coin to be kind of dull and boring. After research I have changed my mind. It has a rich history and story behind it. Much like all Mexico does. The obverse features the National Arms Eagle facing left. It is inscribed with "ESTADOS UNIDOS MEXICANOS". The reverse is the head of Jose Morelos facing left. It is lettered ".UN PESO 1948 Mo. 14 Gr 0.500. MORELOS.." It has a reeded edge, was minted in Mexico City 1947-1949. It's denomination is 1 Peso of .500 Silver. It weighs 14 g and is 32 mm in diameter and is 2 mm thick. Its KM number is 456. Once I researched this coin I was amazed at the history of the man it depicts and the history of his time in Mexico.
The man, Morelos, was a statesman and Roman Catholic priest. He was one of the greatest military insurgent commander of the Mexican War of Independence. An Interesting fact, especial today on MLK Day is he was born into a poor "pardo" Afro-Mexican family. While fighting with other Mexicans for Independence from Spain, Morelos mentor, Hidalgo was captured and killed. he, Morelos took over as commander of the Mexican forces and led them to many bloody victories. He too was eventually captured and executed by a firing squad of three men. It took 2 tries to kill him.
The bronze statue of him stands on the island of Janitizio in Michoaca'n.
Believe me, I have just scratched the surface of this coins history. I recommend you look it up yourself. There is a ton more to learn. It is my hope that you learned something from this humble blog and photos. Please feel free to leave comments. Thanks for your time.
SOURCED: WHITMAN ENCYCLOPEDIA OF MEXICAN MONEY Volume 1 by Don & Lois Bailey2014
www.en.numista.com
www.blackpast.com