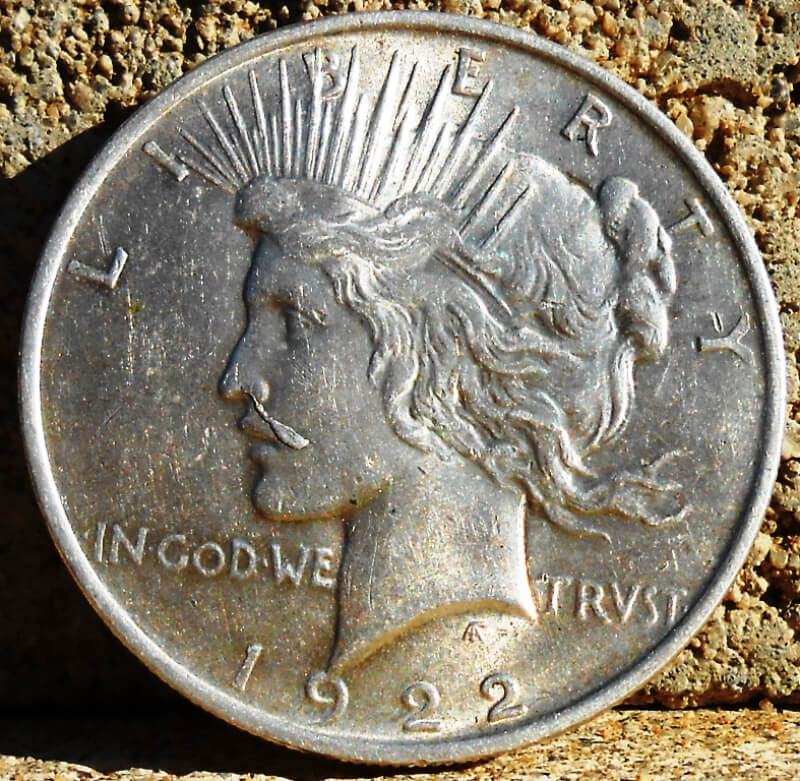 Today I would like to discuss one of my new pick-ups, a 1922 Peace Dollar VAM 12A called the "Moustache" die break. If you look at the photos it is easy to see how Miss Liberty received this nickname. Generally speaking the year 1922, of Peace Dollars, is one of the years that produced the greatest number of die varieties we call VAMs. That is all a VAM is really, a list of different die varieties in a given series of coins. We usually are referring to Morgan and Peace dollars but it can be any series. It was first listed by the two gentlemen that it gets its name, Leroy Van Allen and A. George Mallis. That makes up the acronym VAM "Van Allen-Mallis".
   The 1922 VAM 12A is also in the Top 50. This is a list of fifty different date and mint mark Peace Dollar VAMs that are able to be seen with the naked eye. This is also a set I am working on. The die break on Miss Liberty goes from her nose to her upper lip. This break creates a huge lump of metal that is very easy to see, even from a short distance. On some 12A's there is a crack running from the top of the "G" down across the "O" and into the "D" of "GOD". All this is one the obverse side of the coin.
   On the reverse there is doubling of the eagle's leg feathers and on the rays below them as well as the rays above and below "ONE". On Peace Dollar's it is not that uncommon to find interesting die breaks on both the obverse and the reverse. I should mention that this variety was originally given the designation of VAM 2B and listed as such in the latest VAM Book. It was recently discovered that it's reverse is actually the late die state of the VAM 12 doubled die. This fact changed them all into VAM 12A. Proof that the VAM world is always changing with new discoveries. Please check out the photos. Feel free to comment. Thanks for looking.
Sources:
VAMWorld2.0
COMPREHENSIVE CATALOG AND ENCYCLOPEDIA OF MORGAN AND PEACE  DOLLARS--
Leroy Van Allen & George Mallis

A GUIDE BOOK OF PEACE DOLLARS 3rd Edition-
   Roger W. Burdette
SSDC  THE OFFICIAL GUIDE TO THE TOP 50 PEACE DOLLAR VARIETIES---
    Jeff Oxman & Dr. David Close