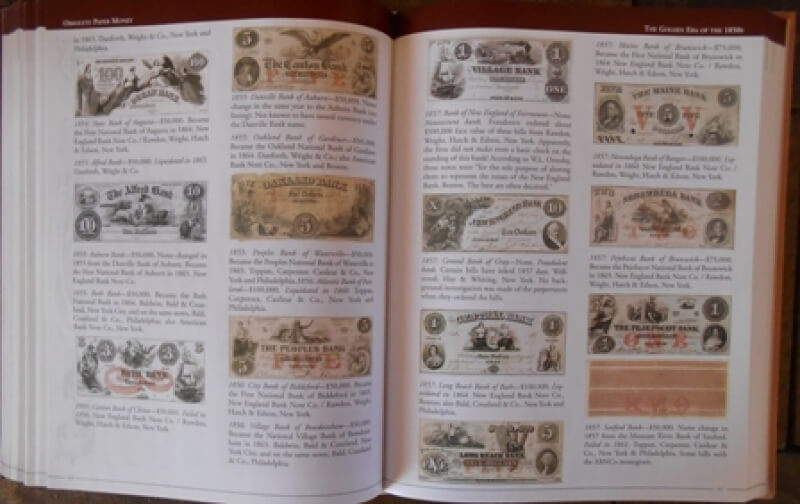 OBSOLETE PAPER MONEY 1782-1866
This book is a must have for anybody that is interested in collecting or studying obsolete paper currency between the years 1782-1866. It is written by Q. David Bowers with a forward by the late Eric P. Newman. These men are two of the greatest numismatists to have lived, in my opinion. They both are personal heroes of mine. The passing of Mr. Newman was a sad day for our hobby. This book takes us back through a time when our country had more than 100,000 different combinations of denomination and design for circulating notes at one time. It was so bad, that banks and merchants handling money, had books and pamphlets with hundreds of pages telling them how to identify counterfeits and value guides of all the different currencies. The first chapter covers Early American Paper Money. It ends on chapter 21 with Obsolete Bank Notes: A State-by-State-Guide.
The 598 page book is full of color and black and white photographs. There is even an Appendix covering the items bought from The American Bank Note Company Archives. This in itself is worth studying. The photos of the vignettes are unbelievable. I personally checked this book out from our ANA Library for a research project. I didn't read the entire book but it certainly is a great reference source. I would love to own a copy myself. Thanks for your time. I hope you enjoyed this blog. I look forward to your comments. Please check out our ANA Library.
Library Number:
US75
86
OBSOLETE PAPER MONEY
ISSUED BY BANKS IN THE UNITED STATES
1782-1866
BY; Q. DAVID BOWERS
2006-Whitman Publishing