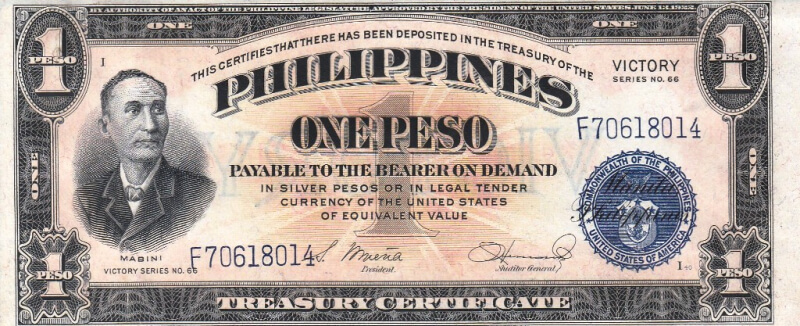 MPC EXPANSION VICTORY NOTE
   I would like to share this note I just picked up from a great seller on the Bay. It is the One Peso Silver Certificate VICTORY note. The 1944 VICTORY SERIES NO. 66. This is an overprint to celebrate the liberation of the Philippians from the Japanese troops. It was printed in the US and issued in the Philippians. The word VICTORY was overprinted on the back.
 The notes were very important to the Islands as they had been forced to use Japanese Occupation Currency. I have a small collection of the Allied Nations counterfeit notes of the Japanese Occupation notes. I thought this would make a nice addition to this collection.
   The back of the note has an image of Apolinario Mabine. Besides a huge list of accomplishments for the Philippians and Her people, he was the first Prime Minister.  The note certifies that one peso in silver pesos or legal tender currency of the United States has been deposited in the Treasury of the Philippines. This note measures about 6 Ā¼ā€¯ X 2 Ā¾ā€¯. Most of the notes were destroyed after WWII but some can still be found. Thanks for reading this short blog. Feel free to comment.

SOURCES:
Philippians Collectors Forum
Roberts World Money.com
Fred Schwan