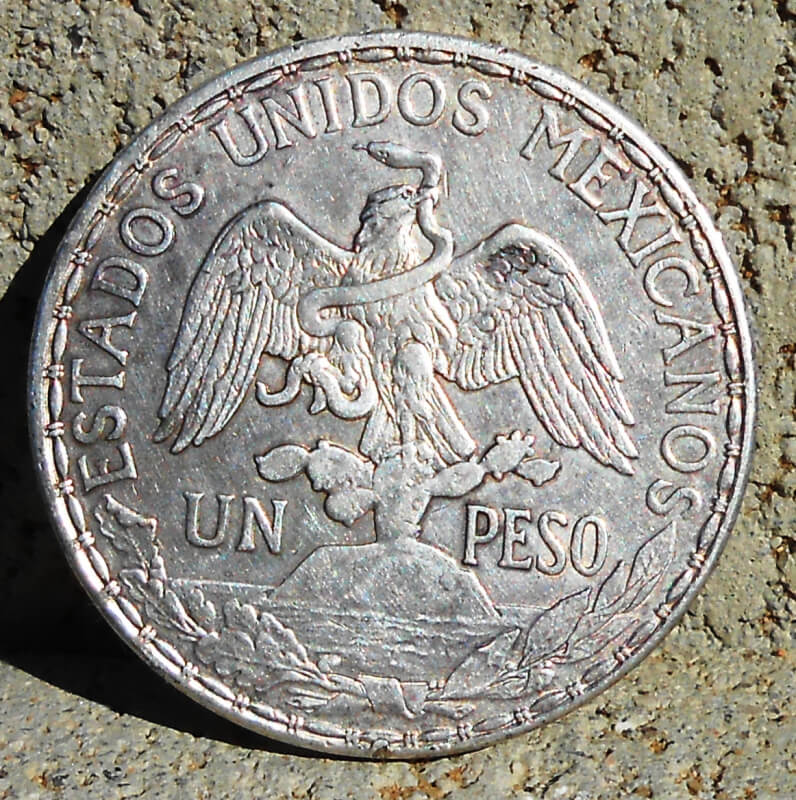 The other day I received a call from my coin guy. He has a coin I had asked him to find for me. This is the first time I had done that, requested a coin type. Well that had been a couple of month ago and I had almost forgotten about it. It took a couple of weeks before we were able to go down and check it out. When we got to the shop there was no one else in it so we were able to chat. That is always fun. He pulls out this coin and puts it on the counter.
   It is amazing. Way beyond anything I have been looking at online. I looked at it under my loupe and saw zero major defects. Not an uncirculated coin but a very nice AU and didn't look to have been cleaned. I was afraid to ask how much. His price blew us away. Way, way to cheap. We, of course took it.
   The coin is a 1913 Mexican Caballito. Not only one of the world's most beautiful coin but the LAST coin we needed to complete our Dansco Mexican Type Set. We had bought this old, used album from the very same dealer a little more than a year ago. It seemed fitting that the last coin to fill it came from the same place.
   The Caballito or "Little Horse", as it is called, is actually a Mexican Un Peso silver circulating commemorative coin. It is a celebration of the 100th anniversary of the "Cry for Independence". It was minted 1910-1914. The coin is 39 mm in diameter and weighs 27.07 g of 90% silver. The obverse features the engravers, Charles Pillet, version of the Mexican Coat of arms. An eagle with wings spread eating a snake, standing on a cactus, growing out of a rock in the middle of a lake.
   The reverse features Liberty riding a horse. In her right hand she carries an oak branch and in her left a flaming torch. The sun is rising on the horizon. This is "Liberty spreading the word of Land and Freedom for the People". It commemorates the 100th Anniversary of Miguel Hidalgo's Grito de Dolores, which started the War of Independence of Mexico from Spain.
   Besides having all of the above clearly present, this coin also has a DDO. Some of the cactus leaves on the obverse are doubled. It also is the "uneven date" variety. All of this is very cool but the best thing is the fun and enjoyment my wife Kepi and I had filling this old album. I'm not sure when it came out but it is one old looking Dansco album. We tried to get a coin coming all the time. As soon as we received one in the mail we went searching for another. Most of the coins were fairly inexpensive. That made it possible to take our time and find nice ones. Toned coins were a plus. It took about a year to fill up the album and it was all fun and we met some great people along the way.
   I hope you enjoy this blog. I highly recommend finding a coin series that is readily available and inexpensive to collect. Please feel free to comment.
SOURCES:
Unique Coins and Currency, Palm Springs, CA
En.numista.com
 Mexican Money Volume 1  by Don and Lois Bailey