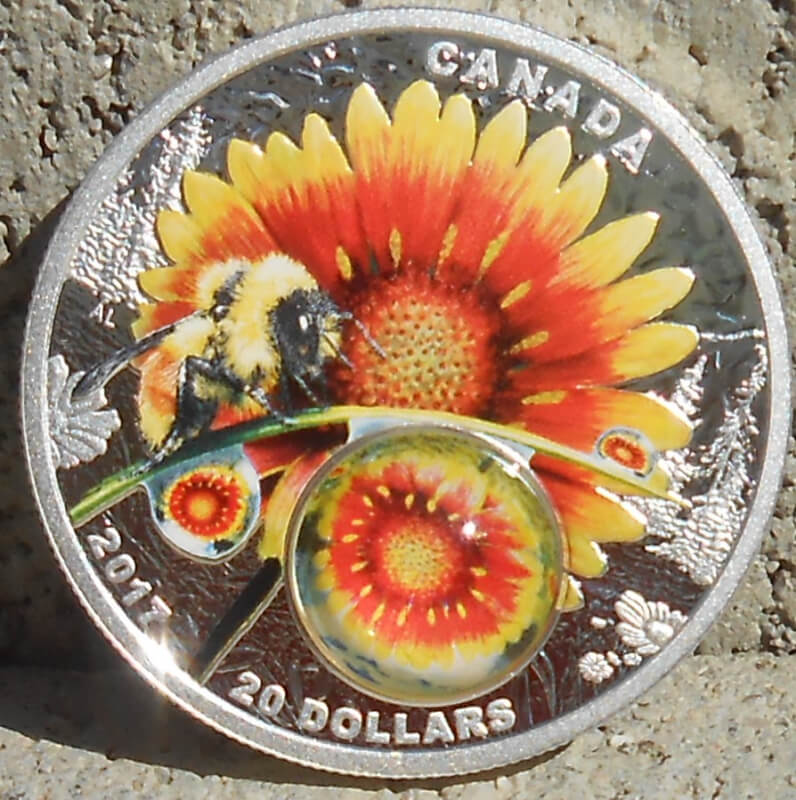 Today, 20 May, is World Bee Day!! I know. It's amazing. As a bee keeper myself I wanted to share the good news with everyone. I am not a big colorized coin guy but I couldn't pass this one up. I won this coin at a Canadian Numismatic Society auction a few years ago. It is a 2017 Canadian 20 dollar silver non-circulating bullion coin. It is called Mother Nature's Magnification.
   The Reverse shows a Bumble Bee on some flowers with a dew drop on a leaf. As shown in the blurry picture the dew drop is enlarged above the coins surface. The reverse shows Queen Elizabeth II. The coin is 38mm in diameter, weighs in at 31.39g of .9999 fineness silver. It is a bit hard to tell because of all the features but it is also a proof finish.
   To get right down to it, it's just another beautiful Canadian bullion coin. BUT I love it. Thanks for checking out this tiny blog. Appreciate the pollinators if you like to eat. Please feel free to comment.
SOURCES:
https://auctions.canadiancoinsandpapermoney.com/auction
CheerioCoins