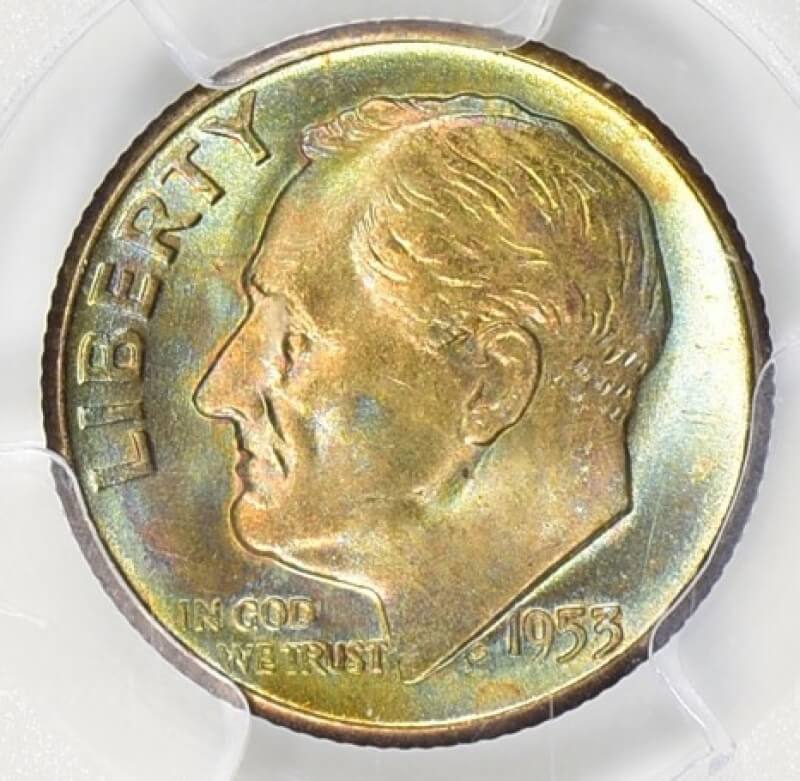 NEVER TOO OLD TO GET A NEW SERIES!
In the course of looking for nice coins for my collections, I have started noticing a new, to me, coin I have ignored. That would be pre 1965 silver Roosevelt dimes. I am a big fan of toned silver coins. There seems to be a lot of them around as well as being relatively reasonably priced. That being said, I decided to bid on a few and see what I get. Below are photos of a few of my auction wins. I have to say they are nicer than I had hoped. Great natural color on them. I believe these may be a profitable coin to collect for the future. How many nice, affordable Mercury can be left?
The two major third party grading companies now recognize the full torch or full bands designation. This refers to a full separation in both the upper and lower crossbands on the torch. This indicates a full, well struck reverse of the coin. It is similar to the same designation on Mercury dimes. This makes the coin much more desirable to collectors.
The mint started coining these in 1946 and continues the issue, with a few changes, through today. I am interested in the pre 1965 coins that were made in silver. John Sinnock designed them, although decades later a claim was made that Selma Burke was the designer. Another issue that arose was the J.S. designer initials on the coin. From the beginning his initials were on the reverse of the coin. This was moved to the obverse in 1968. The bigger deal was the communist fear of the Cold War era. John Sinnock shares the same initials as Joseph Stalin, the communist leader. The mint was forced to issue a bulletin stating that Stalin had nothing to do with the coin. Sounds crazy unless you lived during the "drop and cover" Cold War Era.
There are many additional interesting facts about this series and president Roosevelt but I am trying to keep this short. I encourage you to research yourself. Below are photos of my 1958-D MS 66 FB and my 1953-S MS 65. I hope that the colors show up well. After my research and learning some of the history behind this coin, I am going to keep an eye out for nice high grade toned examples. I guess it's time to get some more current coins. Not that I will give up my other coin pursuits.
Thanks for reading this and checking out the photos. Please feel free to comment!!
Once again I forgot to source my blog. It is as follows:
Red Book 2017 Edition
PCGS
NGC