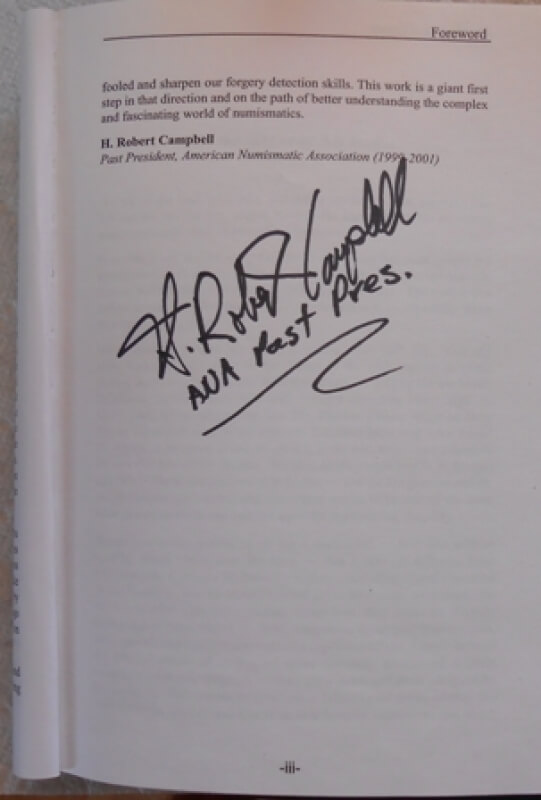 Well, I believe it's time to cause some controversies! I bought this book while I was at the second semester of the 2015 Summer Seminar. It was presented during the course on "Detection of Counterfeit and Altered Coins". I was lucky enough to have it autographed by Bill Campbell, past president of the ANA and Brian Silliman, another of the instructors. This book tells some of the procedures that "coin doctors" produce and alter coins. It's not a recipe book but it's pretty close. Everyone should read this. Without going into to much detail, it will show you that just because a coin is in a slab, that doesn't make it genuine. Shocking news, no? Here is an exert from Amazon:
"
Charles Larson's journey into the subject of numismatic forgery began over 30 years ago, but his insight was substantially enhanced while serving as a prison guard to the most infamous master forger of the 20th century, Mark Hofmann. The informal interviews Larson conducted with Hofmann at Utah State Prison in the late 1980s lay the foundation for a number of methods revealed in Numismatic Forgery."
If that doesn't arouse your interest nothing will. That's about all I want to say about this book. You can buy this book directly from the ANA gift shop if it's still available. If not, it's at all the regular sources. Good reading!! Oh yeah. Don't try to duplicate any of the the procedures in the book. Especially the "Use of Explosive Impact Copier"!!!!!