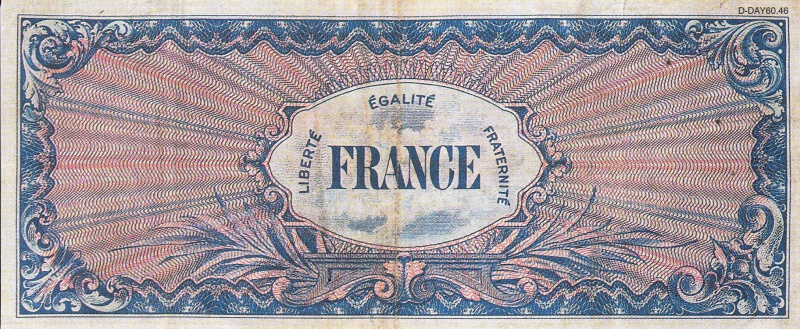 As most of you know, I hope, today is the anniversary of D-Day. 6/6/1944. The entire operation was code named Operation Overlord. I would like to discuss an operation most of us don't know about.
   Operation Tom Cat was the military's code name to get French currency notes into every serviceman's pockets. Most of these notes were printed, in secret, by Forbes Lithograph, and BEP, the Bureau of Engraving and Printing. They came in denominations of 2, 5, and 10 Francs. The two Francs was the most popular because of its small size, 78mm X 67mm, and square shape. Countless numbers of them were put in envelopes and sent home as souvenirs.
   After the invasion, these new notes, with "Printed in France" on them, were a perfect replacement for the German issued currency. Pictured below are photos of Operation Tom Cat notes being sealed and boxed up in Massachusetts, one of the boxes on a pay table being issued in England, a two Francs note, a five Francs note, Forbes Lithograph logo, and the end label of a 5 francs note box.
   Today is the anniversary of a great and bold plan to secure peace by helping to end WWII. This tiny blog features and operation that in its own way help to that end. I hope you enjoy it and do some further research. Thanks to all who serve and have served. God bless you!
SOURCES:
   World War II Remembered: History in Your hands, a Numismatic Study......by Fred  Schwan and Joseph E. Boling
   EN.NUMISTA.COM
   Michael P. Byrne.....Private Collection
   Niel Nielson....Private Collection