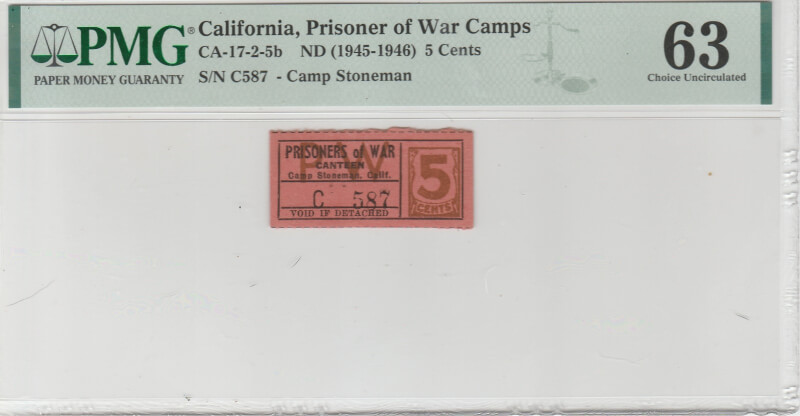 POW CHITS-ROSWELL, N.M & STONEMAN, CA
  I received my latest submission back from PMG yesterday. This one actually came back to me without being lost/stolen for a month. This time I decided to gamble that I would get them back and sent in two POW chits. The first chit is from Roswell, New Mexico. As I should review for new members, these Prisoner of War chits or vouchers were given to WWII Axis prisoners at the different camps they were interred.
   I am trying to concentrate on camps that had Italian prisoners located in California. Also I go for camps that were changed into Italian Service Units or ISU. This happened after September 8, 1943 when Italy signed the armistice and became an ally of the Allied Powers. The once POW Italians now were able to get outside jobs at more varied companies. Kind of a work furlough. They went outside the camp to work and came back at night. The new designation of ISU separated them from POW Germans.
   That being said it doesn't always work out. Sometimes I see something else that catches my eye. That is what happened in this case. I couldn't pass up the Roswell chit. It is from pre aliens but still cool. This example graded out as a 66 Gem Uncirculated with Exceptional Paper Quality. The code numbers are from David Seelye's work, NM-20-2-10. NM means New Mexico, 20 is camp 20, 2 is for the camp exchange, and 10 is the denomination, 10 cents.
   The Roswell camp held German and Italian prisoners from January 1943 until January 1946. It covered about 120 acres southwest of the town. The prisoners worked picking cotton in area fields. They also shored up the North Spring River in Roswell. An iron cross was erected out of stones by the POWs that can still be seen on one of the banks. The prisoners for the most part were well received. At one point when food rations were very low, local farmers donated food to help out.
   My next example is for Camp Stoneman in California. The camp opened in July 1945 and closed June 1946. Besides being a POW camp for a short while this camp was also a major staging area for US troops headed for the Pacific. The POW camp had more than one type of chit. This is shown by the 2 in the Seelye number. So, CA-17-2-5b is a California camp number 17, 2 is a second style chit, 5B is a five cent value and a b issue. There is also a P of W printed on the back.
I received a grade of 63 Choice Uncirculated. Paper Pull is written on the back. It refers to the top of the chit where it was torn from the coupon book it was in.
   I hope you enjoy this blog and learned something. Feel free to comment and ask me any questions. Thanks.
    SOURCES: 
       World War II USA POW & Internment Camp Chits by Dave Frank and David E. Seelye