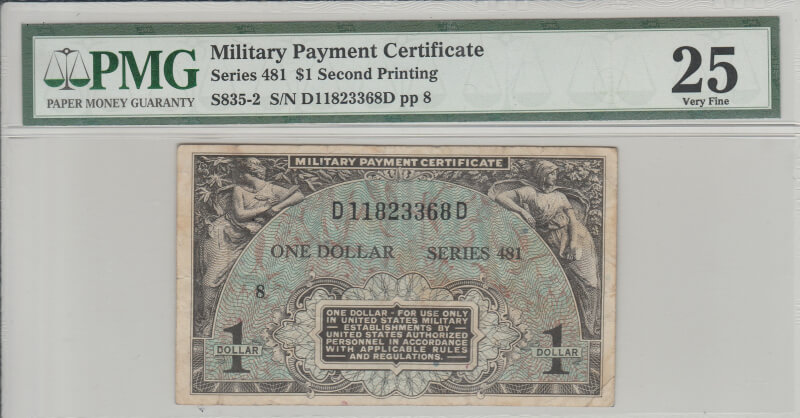 SERIES 481 MILITARY PAYMENT CERTIFICATE
   The newest member of my MPC or Military Payment Certificate is this nicely used one dollar bill. As I have stated in some previous blogs, MPC were used as payment to the military serving "In Country". This series was issued June 20, 1951 and ended May 25, 1954. It was used all over Europe, Korea, Philippines and elsewhere that our military was stationed. The printing was performed at Forbes Lithograph Corporation, Boston, MA..
   This One Dollar note was done as a Second Printing. It's serial number, D 11823368 D falls between the listed numbers of D 06720001 D and D 12880000 D. There were a total of 6,160,000 of this run of One Dollar notes printed. These numbers may seem boring but to a collector they are very important as prices for them very wildly based on their serial number and plate position. This notes plate position is "8" and appears on the left side. If this note were a replacement note, there would be no letter D at the end of the serial number.
   The Series 481 is said to be a transitional series in that the design is much more "arty" than the series' before them. A vignette is used in the dollar and higher denominati0ons. This vignette is called Mechanic and is featured on both corners at the top of this note. This same vignette appears on the face of the 1,000,000 Treasury bill.
   The MPC series after this 481 used different vignettes for each denomination over one dollar. One the back of the note is The Great Seal of the USA. This same vignette is used on the Series 472 which followed this one. I bought this particular note because I try to get MPC that were "used". This is not as easy as it would seem. This one is graded by PMG as a Very Fine 25. As noted on the back of the slab it has some small staining. All this adds to the value for me. This is a note that has done its job.
 I hope you enjoy this small blog and appreciate the history behind collecting MPC. Please feel free to comment and ask questions. I will do my best to answer them. Thanks for looking.
SOURCES:
PMG
Comprehensive Catalog of Military Payment Certificates by Fred Schwan
World War II Remembered History In Your Hands-A Numismatic Study by Fred Schwan and Joseph Boling
The MPC Gram