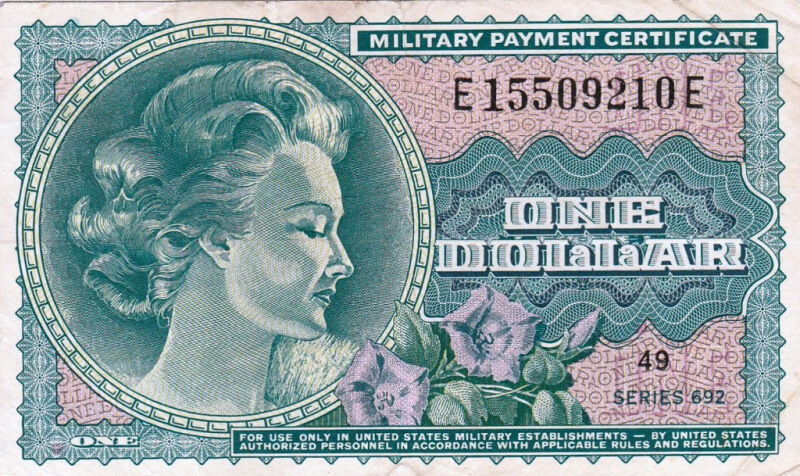 I just noticed it has been quite a while since my last blog. I guess it's time for a new one. I have a dozen or so new Peace Dollar VAMs to share but I believe I will take a different path today. I have been getting back into Military Payment Certificates, MPC, again and would like to share some with you. My last blog on MPC's was about Chief Hollow Horn Bear. He is on the Series 692 ten dollar bill. I believe this is one of most sought after bills. If you would care to view this blog it is listed here on 20 April 2020.
   I am going to stay on this series of MPC's for this blog. It was produced during the Vietnam War. Generally speaking this series was produced from October 1970 till March 1973. They are the last series that was released for use by the military. There was a series 701 however it was never released. All notes were destroyed by fire. Of course there are a few that escaped the fire and are highly desired. I am going to talk about all the notes I own at this time instead of several separate blogs. I hope you enjoy it.
   I already described the ten dollar bill in that earlier blog. Check it out. The next one is the twenty dollar. The front features the famous Indian Chief Ouray of the Western Colorado Ute Indians. He is famous as a "Man of Peace". The back of this bill has the Hoover Dam. I bought this bill raw and was lucky to get a grade of 35 Choice Very Fine, First Printing from PMG. The size is 6"x2 ½". I am going to be brief on these famous pieces of currency. I encourage anyone to do further research on their own.
   Next comes the one dollar. This is still a raw piece. I would guess it will bring a similar grade of 35 or so. The front shows a beautiful allegorical young woman with flowers in front. The back is a copy of our 1901 ten dollar Bison note. It has a nice copy of the bison facing us. This bill is 2 ½' x 4 ¼".
   Next is the ten cent note. Shown on the front is a stylized Greek statue of a god seated holding a faces and plumed helmet. The back is an American Bald Eagle with wings spread. He is perched on a faces with olive branches.  My example is a 66 Gem Uncirculated, Exceptional Paper Quality, First Printing. It is about 4 ¼" x 2 1/8".
  Last is the five cent note. It is identical to the ten cent except for the color. It is, when new, re, orange and lavender. The ten cent is turquoise, blue, and orange while the five cent is red, orange, and lavender. This bill was graded 65 Gem New Premium Paper Quality. This is a PCGS grade note. My only MPC graded by them, so far.
   In closing I would like to thank Brianna at our own ANA for putting on a fantastic Webinar on MPC by Fred Schwan. I find collecting MPC a great change from my usual Peace Dollar VAMs. It's a nice break. There is a lot of history behind all the MPC's to be learned. I can't encourage people enough to give them a look. Thanks for reading this blog. I hope you learned some new facts. Feel free to comment. Thanks!
SOURCES:
ANA Webinar-MPC Boot Camp by Fred Schwan
Antiquemoney.com
Legendsofamerica.com
Robertsworlddmoney.com
Thebanknotebook.com
This link is care of I.R. BAMA--https://www.astonisher.com/archives/museum/hollow_horn_bear_little_big_horn.html