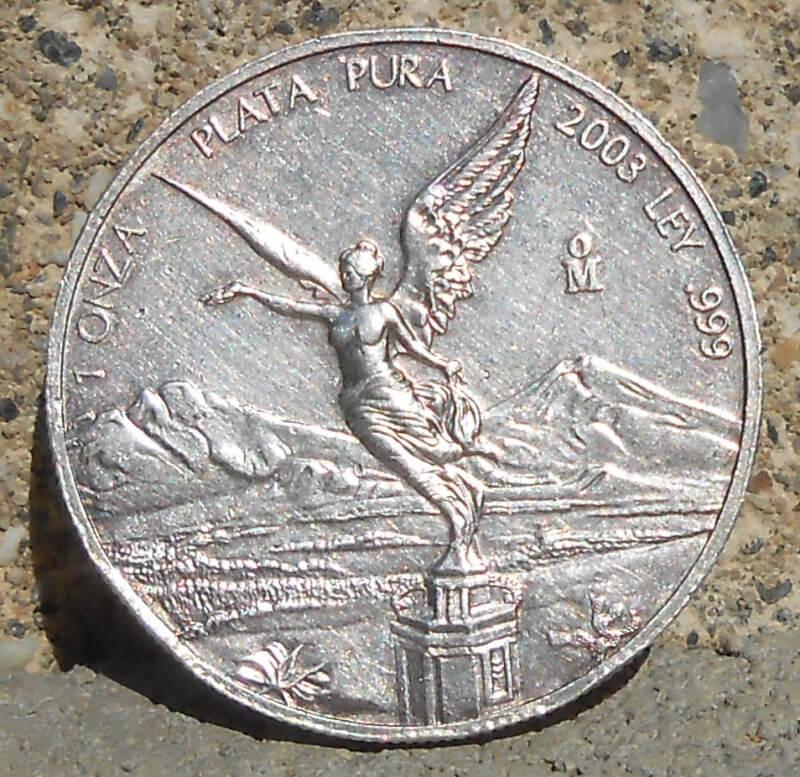 SHORT BUT SWEET-2003 MEXICAN SILVER LIBERTAD
     I believe a lot of collectors here are familiar with the Mexican silver Libertad's. If not you might consider checking them out. They are Mexico's answer to our American Silver Liberty bullion coins. I received this one in the mail today and wanted to share it here as it is a bit unique.
    Libertads are made in a variety of sizes. They range, lately, from 1/20, 1/10, ¼, ½, 1, 2, 5 ounce, and one kilo of .999 silver. They make gold ones as well but we are talking silver here. Now I collect these babies and am used to seeing very well struck coins in BU or better condition. Some get a very nice toning. Those ones are my favorite. This specimen is unique in a different way.
    My coin, a 2003, was picked up in a Mexican Bank in circulated condition. Apparently someone or someone's used this coin to purchase items. It has a listed value of 1 Onza or one ounce silver. I have no idea what they traded this coin at. It was not bought by me but an eBay seller. I never have seen a circulated one before. It is has some surface scratches, a toned spot, and even an edge ding. Amazing to me.
    Try to imagine finding an ASE, pure silver coin at the bank probably in with a roll of Ikes. It just doesn't happen. I've never heard of it happening. Maybe you have. I should add that the Libertad One Onza is 40.0mm in diameter, 31.1g, and 3.0mm thick. I hope you enjoyed this little tale of mine. Feel free to comment.
SOURCES:
   My knowledge
   en.numista.com
P.S. I should have said that the American Silver Eagle, that came out in 1987, was our answer to the Mexican silver Libertad that came out in 1982.