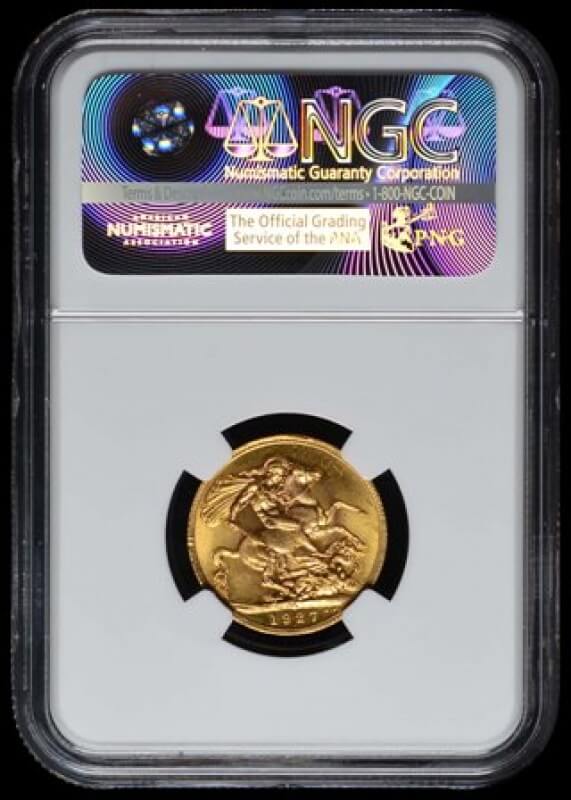 TAKE A CHANCE FROM TIME TO TIME
A while back I saw a coin on a not so well known auction site that is on line. I've been looking at their lots from past auctions and was quite impressed with the quality and price range of them. This company, sort of, specializes in ancient and world coins. I don't know a lot about world coins but I have always admired the Soverign. I find it a beautifully artistic design. As a reptile lover, I am quite fond of the dragon on the reverse, even though he is having a bad day. This particular Soveriegn was minted in 1927 in Pretoria, South Africa. The site described the coin as uncirculated. It looked good, even though it has some light scratches? in the fields. I did my due research and put down a bid. I felt it would grade out as a low MS. not bad.
I won the auction and after paying for it, no buyers fee from this company, I received the coin promtly in the mail. I was very happy with what I now owned. I felt the company had played down the condition and decided to submit the coin to NGC, one of our percs for being an ANA member. As you can see in the photos, it came back as an MS 64. I took a chance on my grading skills and it payed off. That 64 grade increased the value of the coin quite a bit over what I paid. This was only the second time I bought a coin raw and sent it in. Both times to have it come back in a better grade than described. I feel pretty happy and a bit lucky. It can pay to take a chance from time to time.
Now the descrition of this Sovereign. It is .917% gold. Weighs 7.99 g is 22 mm in diameter and 1.55 mm thick with a reeded edge. It depicts King George V on the obverse and St. George slaying the dragon on the Reverse. As I stated it was minted in Pretoria, South Africa. Thanks for looking. I look forward to your comments..
Sourced: www.en.numista.com