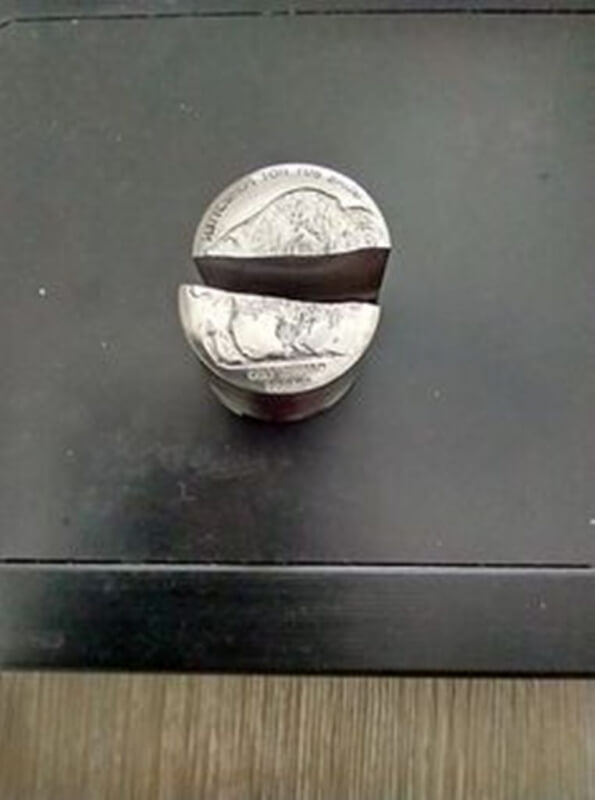 TRIBUTE COIN TO AN ANA LEGAND THAT BECAME A VAM!
   Today I would like to share a very special coin I just received. I saw these on a coin group on Facebook. The guy selling is named Joe Poanessa but, as you will see, he is out of them.
   If you ever went to the ANA Summer Seminar then you have seen this big guy around. I am talking about Tiny (Daniel Leo Cross). Tiny, he will always be Tiny happened to drive around in a golf cart and ferry people around the campus and surroundings. He also kept a very watchful eye on his Young Numismatists. He was the guy you would meet at the airport in Colorado Springs, collect your stuff, and got you on to the bus.
   He didn't just work with the YN's. He took care of anybody that wanted or needed a lift. He was nice enough to include this old man. I do believe he would arrange a ride for anyone to anywhere in the area.
   As if this wasn't enough Tiny was an expert Hobo Nickel carver. He sat in on many of those classes and even did a little instructing on this technique. Tiny is was honored to have the Smithsonian Museum display one of his carvings.  Sadly, Tiny passed last year, 2020. He will be missed. I best mention that he is a proud son of the great state of Missouri.  Sorry I got a little off topic telling you about Tiny.
   So, back to these coins. They were made to honor this great man. These two coins were counter stamped as a commemorative piece for Tiny. The mother coins are US nickels and bronze Mexican 20 centavos. You get to pick the one you want. Some of the original features are present on the new strikes. They aren't as easy to see as the photo below shows. Trick of photography. To make these even better for this old VAM man, the coins I ordered became VAMs.
   The die used to strike these coins developed a crack. Much like the mint during the striking of my Peace Dollars, that didn't stop the coining process. More and more coins were struck until the crack became a break. More were struck and the die eventually grenade, came apart. The two coins I received have such a deep, I'll say breaks, I believe the word is incuse , that it is sharp. One has to remember a crack in a die results in extra metal on the coin. I was lucky to get in on the last batch before instant retirement.
   I hope you enjoy this blog and photos. Feel free to comment. Check out the Webinars we have on this site and You Tube. There is a nice one on Tiny.
SORCES:
money.org
Facebook
Joe Poanessa 
https://www.youtube.com/watch?v=vH9WOyJrLl8

https://www.coinbooks.org/v23/esylum_v23n13a07.html