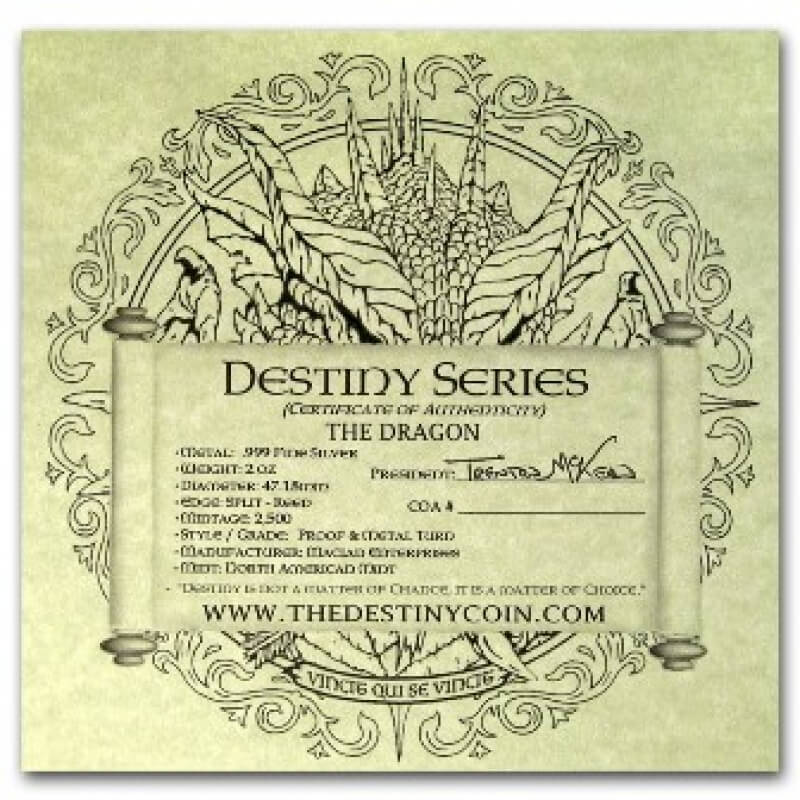 No one has done it so I will. This is my Fathers Day gift blog. "Destiny Is Not A Matter Of Chance, It Is A Matter Of Choice." This is what is inscribed on my 2 ounce silver bullion coin. This is the second coin in the Destiny Knight Series of coins. It is aptly called The Dragon.
It pays honor and homage to the Scottish Knights that were killed in their war with the Spanish in 1588. This was a real war that involved the Scottish Clans Maclan and Mcdonald and their battles with the Spanish and Clan Maclean that were in liege with the Spanish. See, you can learn history in even a bullion coin. For this series, the Dragon is meant to symbolize our daily eternal and internal struggles. The Dragon is meant to remind us to remain steadfast, unyielding and to never give up!
These, to me, are words and beliefs to live by. That is why I have a few dragons on my body. Dragons also symbolize wealth, intelligence, guile and control over stormy weather. Most cultures of the world have some type of dragon beliefs. Many give the dragons different and varying powers.
Now to the coins specs:
It is 2 ounces of pure .999 pure silver. Its mintage of only 2,500. As you can see in the photos, mine is number 230. The reverse depicts the Dragon with a very intricate design bordering him. Below the Dragon is the inscription" VINCIT QUI SE VINCIT" which translates to "He Conquers Who Conquers Himself".
The reverse features a Knight of the Maclan Clan as it is engraved on his shoulder armor, seeking his revenge. His right gauntlet is inscribed "2 oz .999 Fine Silver. In the background, over the knights left shoulder, is a sinking gold filled Spanish galleon. Over his right shoulder is a Scottish village. The edge has the coins unique serial number and is reeded. The coin is 43 mm in diameter and weighs in at 2 ounces and has a thickness of 4 mm. The coin also comes with its own Certificate of Authenticity.
I hope you enjoyed reading this blog and learning about it. Please feel free to comment. Thanks Kiddo!!
SOURCED:
Apmex