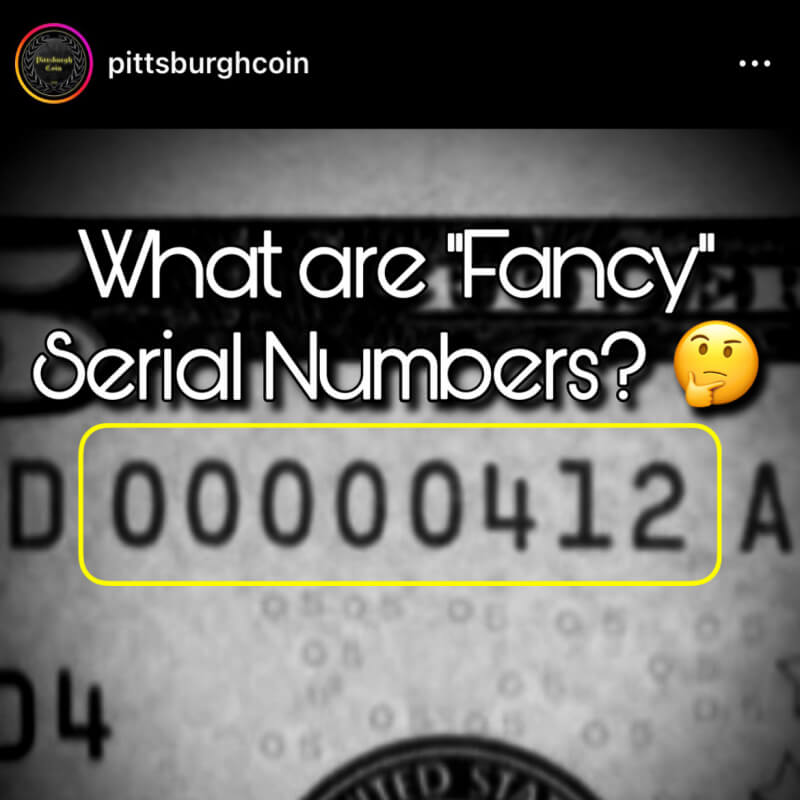 What is a Fancy Serial Number? 🤔
• Varying from your very own or a loved one's birthday, an anniversary date, a country or business's establishment date, the repetition of lucky numbers, to the infamous Jenny's phone number, some of the common questions that which arise rather frequently pertaining to a banknote's fancy serial number sequence are:
- What are some of the unique types of fancy serial numbers that a banknote could potentially contain?
- What determines the significance of those numbers, or whether or not they should be deemed "fancy"?
- How valuable might each type of fancy serial number be worth?
• Each and every individual banknote that has been printed by the Bureau of Engraving and Printing (BEP) has its very own distinct and unique serial number correlating to that banknote's existence. Typically, for U.S. banknotes, these serial numbers will consist of eight individual numbers that can potentially assemble and form a significant sequence in the eyes of a collector.
 *While analyzing a banknote, it is important to keep in mind that the serial number could potentially identify with multiple types of these fancy number combinations instead of just one. For example, a trinary could also potentially be considered a bookend, depending on the sequential order of the individual numbers.
Below, we have provided a general list of some of the various types of fancy serial number combinations, as well as examples of each:
• Birthday/Date Note: Contains a significant date such as a birthday or an anniversary.
ex.) 07041776
• "Jenny's Phone Number": "Jenny, I've got your number!".
ex.) 08675309
• "Pi" (π): Contains the mathematical "pi" (π) number.
ex.) 31415926
• Solid: Repetition of the same (one) number throughout the entire serial number.
ex.) 11111111
• Low: Beginning with several leading zeros ; typically minimally four.
ex.) 00000412
• High: Starting with several leading 9's ; typically minimally five.
ex.) 99999412
• "Ladder": Numbers either increase or decrease in increments of one.
ex.) 12345678
• "True Binary": Contain only zeros and ones similar to a computerized binary code.
ex.) 10101010
• "Binary": Contain only any two of the same numbers.
ex.) 44411144
• "Bookend/Radar/Palindrome": Numbers read the same forwards as they do backwards.
ex.) 01115550
• "Super Repeater": Occurs when the first two digits are repeated four times.
ex.) 87878787
• "Repeater": Consist of the same four numbers repeating twice.
ex.) 71037103
• "Quad Double": The first four digits are the same number ; same with the second half. 
ex.) 44448888
• Seven in a row: Consists of seven of the same digits ; consecutively.
ex.) 07777777
• Six of a Kind: Consists of six of the same digits ; not necessarily consecutively.
ex.) 18111115
• "Trinary": Contains only any three of the same numbers.
ex.) 41241241
*The potential value of a banknote containing a fancy serial number combination primarily depends on either the rare occurrence of the serial number or the significance to the acquirer.
*The condition or grade is another considerable factor in regard to determining a fair and reasonable value assessment.
Have you ever found or purchased a banknote containing a fancy serial number combination, and if so, what is the fanciest serial number that you might have stumbled across? 🧐
Source: 412numismatics.com - What is a Fancy Serial Number?
@PittsburghCoin