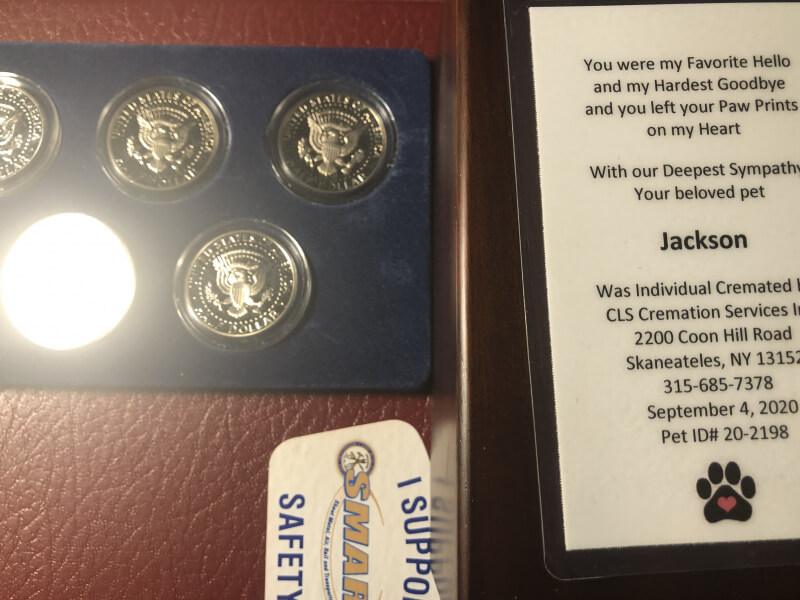 Top O' the morning folks!
     As the title indicates, this blog is going to be about quality. On 4 Sept., 2020 I decided to purchase a Kennedy Half set from GovMint.com to celebrate the "Granite Lady" and my shadow. In my humble opinion, the San Francisco mint rivals the West Point mint when it comes to turning out a quality product. When I saw this set of 5 "Decades of Kennedy Half dollars" it reminded me of my Lil Jackson, and I thought to myself, this would be an appropriate tribute to his short life in this world. We got Jackson from Geneva, N.Y. when he was just 6 weeks old. You could hold him in the palm of your hand. My daughter wanted to hold him on the ride home which was a good 45 minutes from our house. It took me about a month to get him to come to me when I called him by name. Such is the life of a new puppy.
     Since I'm a relatively new collector, I really wasn't aware that there was a mint at West Point, N.Y. I only own 1 coin from this mint. I bought it for comparison during grading exercises. It is a 2020-W, PCGS graded, MS-70, First Strike, Silver dollar which I previewed in a previous blog. It's a beautiful coin and well made.  As most folks on here know, I started collecting Kennedy half dollars in Dec. of 2019. When I got my first San Francisco Kennedy, I could tell that the quality of this coin was also impressive. You can certainly tell that it's NOT a business strike coin. The "Granite Lady", as the San Francisco mint is often called is a historic building. It appears that the people of this city are attempting to restore it to pristine condition. It was interesting reading about it on their website:  https://thesanfranciscomint.com/info/ . As far as I can tell, the major difference between W. Point coins and San Francisco coins is the price.  I can afford a "S" coin, but I would need to save up some money for a "W" coin. The coins in this set are a 1969, 1979, 1981, 1991, and a 2005 and all are well made and will fit nicely into my collection. This is just a part of my numismatic education so far.
     As always, stay safe, HEALTHY, and coronavirus free by wearing a mask and washing your hands frequently! Talk to everyone again soon!
Correction:  I was just now sitting here thinking and read CentSearchers comment. I have 3 West Point, N.Y. pieces. The other 2 are the Lincoln cent which I received in the 2019 Silver proof set and the Jefferson nickel which I received in the 2020 Silver proof set. I stand corrected. "Just the facts mam',  just the facts please!"  
Charlie aka slybluenote