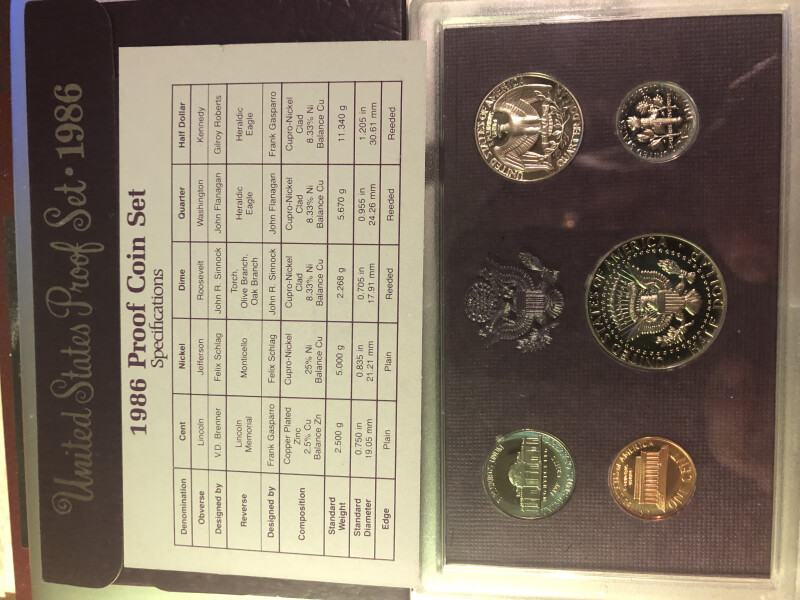 Good morning fellow collectors!
     As promised in an earlier blog, I am previewing the 4 "Key Date" proof sets that I purchased. First, I would like to discuss what is the true meaning of "Key Date".  Further research indicates that there are also "Modern" Key Date sets. Some are silver while others are not. I have previously got the 2012 Silver proof set and didn't even realize that it's also called a Modern Key Date proof set. Some dealers list 10 key date proof sets while others list only 4. My latest purchase was the one that listed the 4 years, 1960, 1974, 1986 and 1996. These are the sets I will be sharing with you today. I paid $83.95 for the 4 sets which average out to just a little over $20 a set, which I think is a fairly good deal. Below is the description of these sets that is on the website of the dealer:
"A simple collection that is loaded! It is 4 sets in total, with each set the lowest mintage proof set of the decade. So the finest ( proof ) and the rarest ( lowest mintage figure ) ... but that's not all ...
1960: A Vintage 5 pc set in the old "manila" or "poly pack" presentation. But inside we have three 90% silver coins: the Roosevelt dime, Washington quarter and Franklin Half Dollar. When you add them up to come to just under an ounce of precious silver. And the 3 silver proofs are selling for upwards of $69.50 by themselves.
1974: This "Black Pack" is a 6 coin set. It contains the traditional cent through half dollar, but also includes the Eisenhower Proof.
1986: The lowest and key set of the 1980's was 1986. It's in the "Purple Pack" family. Remember, 1986 was the 100th anniversary of our Statue of Liberty and the US Mint added new commemorative half dollars and dollars which took a few of the available dollars to spend off the table - 25 years later our benefit. 1996: This "Green Pack" is one of the Keys to the past 50 years of proof set production. It's miniscule mintage is only a few thousand off of 1960 .. the lowest regular issue set over the 40 year span."
    I'm really happy with my purchase. I have looked over each year, and these sets enhanced my proof set collection. My question is in what year do the "Modern Key Date" proof sets start? Are there other years besides the 2012 Silver and 1996 Prestige proof sets? I assume this is part of the numismatic education. In case you didn't visit my proof set collection, the mintage for the 1960 set is 1,691,602, mintage for the 1974 is 2,612,568, mintage for the 1986 is 2,411,180 and mintage for the 1996 is 1,695,244.  I'll continue to plug along. Since I'm talking about key dates, I'm including a couple of pictures from a key date in my life. When I turned 60, my wife and sister-in-law bought me and my brother an all expense paid vacation to Muscle Shoals, Alabama and Clarksdale, Mississippi since it was the only thing in my "Bucket List". 
     Enjoy the pictures and stay safe, HEALTHY, and coronavirus free until next time! 
P.S.  I may have to borrow Gary's camera and expertise the next time I photograph coins !  :-))